The rules for bridesmaids outfits, if there ever really were any, are truly disregarded.  As a bride there is no form or tradition anymore, different dresses, different colours, different styles, it really is about great the ultimate look for your wedding and your bridesmaids.  Today with the help of Pure Collection I am going to look at some budget friendly bridesmaid outfit ideas that save on the outfit and spend on the accessories that are more likely to be worn again.
Grecian Godess
The first look is more of the traditional bridesmaid look with a Grecian style long flowing Maxi dress in red.  This look is practical for a wedding abroad, teaming gold accessories and flat sandals for all day comfort and style.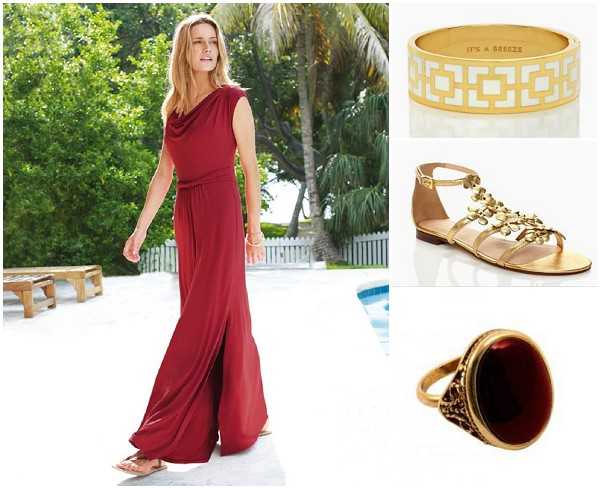 Dress: Pure Collection / Bracelet: Kate Spade New York /
Shoes: Kate Spade New York / Ring: Rock N Rose /
Mint Infusion
Mint is a huge hit for this Spring and Summer season, but if you are not feeling an attraction to a pure mint ensemble, then add in bold mint accessories to a classic lace shift dress in nude.  The statement necklace and shoes adding in vibrancy for a wedding abroad.
Necklace: Swell Caroline / Shoes: Betsey Johnson / Bag: Chanel /  Dress: Pure Collection
Colour Me Nude
Planning a chic, low key wedding with friends and family that might be the second time around?  Not all bridesmaids or Maids of Honour are twenty year old lovelies and with the rules gone, for any age range consider a nude colour palette with separate pieces.  The key to a fabulous nude ensemble is to combine prints and textures to stop the ensemble being flat and finish off with a classic nude Louboutin, that can combine as the gift aswell!
Bag: Kate Spade / Top: Pure Collection / Skirt: Pure Collectoin /
Shoes: Louboutin / Earrings: JCrew / Ring: Debenhams /
As it is coming up to the weekend, inspiration for your shopping days ahead!