Although not as stressful an issue as the seating plan, wedding gifts can be contentious.  You want to thank those involved in the wedding day, in a personal and unique way that doesn't blow your entire budget.  You want the recipient to love the gift, but balance that against is being a reminder of the occasion it was presented for.
Our Belle Bride Sophie in one of her last posts before she heads to France for the big day, talks us through choosing her wedding gifts the represent the gift of love.
*****
You ask me what I want.
You ask me what I need
It's nothing you can buy
My heart's not ruled by greed
I don't love a diamond
Diamond's you see through.
The gift of love is all about marrying you!
Stuart and I have our gift of each other, so that left us with buying perfect gifts for our maid of honour, bridesmaids, best man and our adorable page boy.
I found this process the most challenging because everyone's taste is so different. As long as they all love them that's all that matters, I've put so much thought into my gifts and this is what I came up with.
Bridesmaids Gifts
I brought several plain white dressing gowns from M&S and went and got their titles and our swan logo embroidered on the front and back in pale pink for us all to wear whilst we're having fun getting ready.
I ran away with this idea and had embroidered coat hangers made with their names and our wedding date on, I did this so they could re-use these again and they were personalised.
Following on the personalised theme I brought all my girls a pearl necklace, bracelet and earrings. The bracelet has a beautiful clasp on with a tiny tag with their initial on. I was conscious about the necklace and brought a pearl which has is flat on either side so sits comfortably around their neck, it's clasp is also shaped in a heart which I felt was quite fitting.
I carried on the personal theme and brought a few novelty gifts, such as a little lavender pouch with knickers sewn on the front and had the words "party pants" "princess pants" and "pretty pants" all to fit their personalities. I found someone who made flowered bouquets out of buttons and brought these, as I knew these flowers will never die! Last but not least a little teddy bear dressed in the very same colour as their own dresses.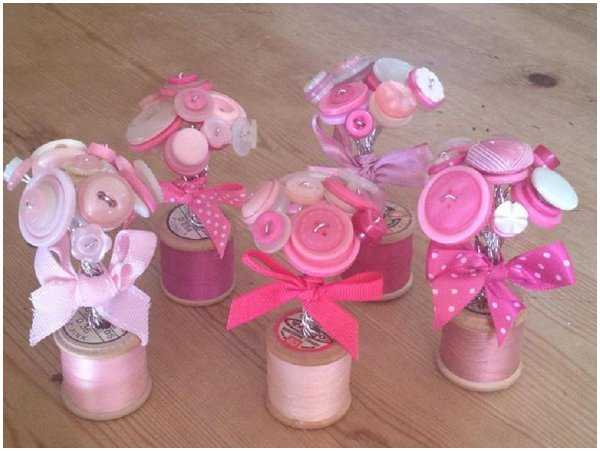 As I had a few items, I wanted to make sure they were wrapped in something unique and found a company who made small bags and drew characters on, so asked them to draw my friends with their names so they would be able to keep their bags and re-use them again.
Best Man Gift
The best man is one of the most important roles at a wedding and one of the most important presents! I found this the most challenging of all. I wanted to do something similar to our dressing gown idea and decided to purchase etched cufflinks with their titles engraved and their initials on the front of the cufflinks, I also brought socks with their titles on in blue.
For our best man Mark, I took a step back and really thought about what mark likes doing and what were his interests so that the present was appropriate. I know he loves a drink or three so brought him a pint of beer 3d puzzle along with a vintage bicycle horn, as a novelty gift!  (he likes to ride his bike across the world) and that's where I came up with the idea of a travel scratch map, as I know since his recent marriage him and his wife Emily are planning to travel the world.
Page Boy Gift
Our page boy Otis will be the star of the show wearing the same suit as the men! I wanted to include him in every detail thought through and purchased him also some-personalised socks too.
I wanted Otis to feel spoilt and as important on our special day and therefore may have got a little carried away! Seeing as I don't have my own children, as yet I felt it was allowed!
I treated Otis also to a personalised embroidered coat hanger, which I'm sure he'll make use of whilst he's growing up. I found some great unique ideas from 'Not on the High-street' and purchased a wooden train with his name as part of the train so he can play and put it together, I found on Facebook an organisation whose into crafts and creates animals and sews their personal names on and had a dinosaur made.
I know that Otis's family have a sausage dog called Ernie and I thought he may be missing him whilst in France, so found a wooden sausage dog on wheels and had 'Ernie' written on it so he could play around with him during the weekend.
We wanted Otis and other children who are invited  to have fun and be involved throughout the weekend although appreciate certain aspects of the weekend are going to be long some. The wedding dinner for example can turn in to a long event, especially with several speeches.  Therefore I found a great activity set for weddings, which included games, colouring in and activities to complete and I brought all the children invited to our wedding one of these.
Something extra
One thing I felt strongly about was getting my mum, my soon to be mother in law and Stuart's nan handkerchiefs because if they're anything like me they may shed a tear or two! I had these personalised and embroidered with special words on each one.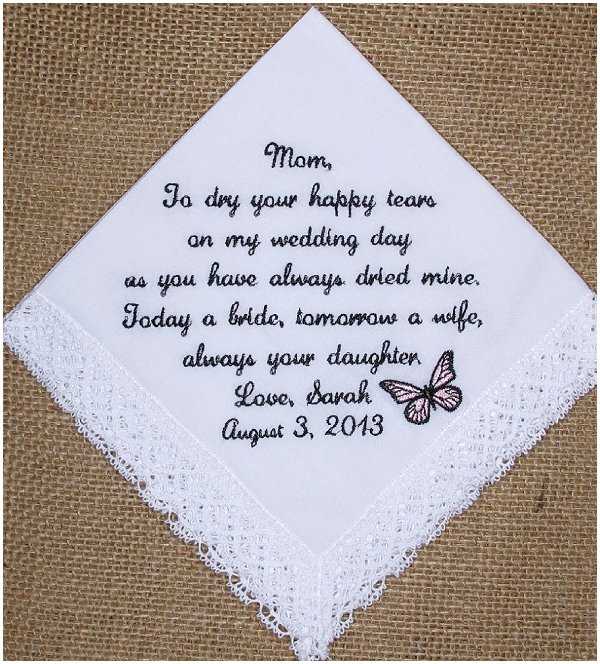 I really have tried to think about everyone and everything over our wedding weekend, as I would love everyone to have as much fun as we do!
It's really not far away now, 6 weeks and counting! Little nervous that everything is going to go to plan! The next blog I write will mean our wedding is drawing near!  Can't wait for our trip to France and to surprise our guests with all these lovely gifts of love x
*****
Do you have a memorable wedding gift that stands out?