Happy hump-day everyone, and to celebrate getting through the typically dreary month of January, we've got a real pick-me-up today where Resident Hair and Make up expert Carey Hawkins highlights what Bridal Beauty Trends we can expect to see in 2018.
So, without any further ado, over to Carey…
In the depth of this cold (and very wet) spell it is difficult to picture the beautiful blue skies, warm evenings and sunflower filled fields of summer in France. But if your wedding is this year it will be here sooner than you think.  Time to look for inspiration for your day.  The biggest influences now come from the catwalks and now even the specialist Bridal shows that run along side these.  So, whether you take your ideas from Paris or New York remember there is beauty in simplicity and choose styles that will not date.
Here are some of my favourite trends for 2018 and how to adapt them for a wedding.
Photo Credit: Neil Redfern
Starting with hair.  There was quite a lot of similarity with last year's influences, with plaits and beachy waves still being a big focus.  Some beautiful new ideas seen at Marchesa were the use of velvet ribbon tied on a low simple ponytail.  This would look amazing for the Bride in a matching dress colour or equally lovely for the Bridesmaids.  The simplicity of this look can be balanced with some super statement earrings.
Lots of jewelled headbands were amongst the looks and one simple flower in a very appropriate 'croissant' shaped bun looks stunning.  Hair down with beachy waves and texture (seen at Stella McCartney, Dior and Vuitton) are still very popular but keep the hair down to ear level straight and add texture or curls through the ends.  I love Umberto Giannini Grunge Glamour salt spray for texture without stickiness. 
At Rodarte there was tons of Gypsophila in the hair which I really like as a hair accessory as they are pretty tough and do well in the heat without going brown.
Although not the real-deal, you can purchase Gypsophila Hair Combs from Etsy: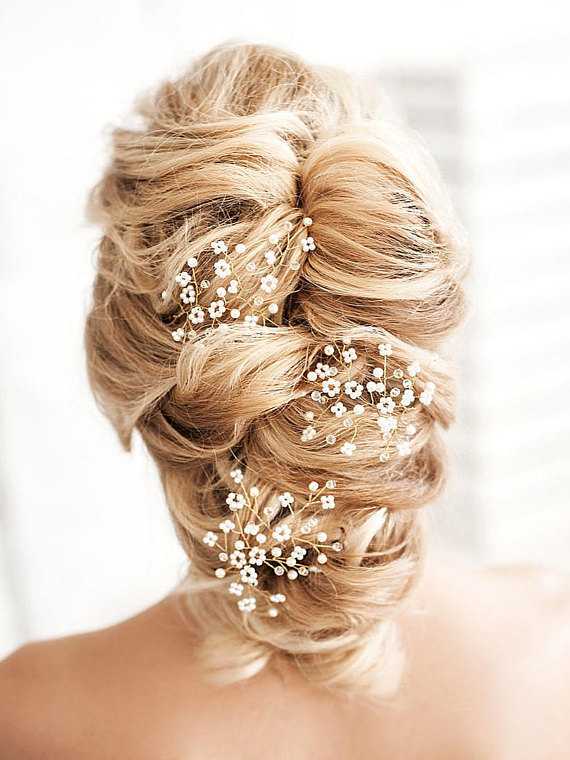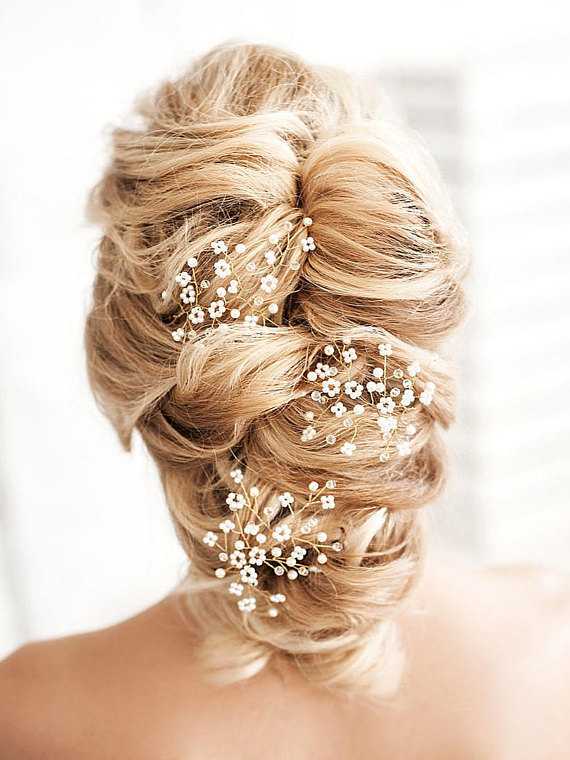 Make up influences took a dramatic edge for this year.  Lots of black eyeliner in differing shapes and styles which can be softened or replaced with dark browns for a subtler wedding look.  Solid black can look a little harsh on photos so if you are using this colour ensure you take some photos of yourself in natural light and compare to a brown. Try Bourjois Contour Clubbing Waterproof eyeline in 57 Up & Brown.
Golden highlighters used to create 'halo' like effects on the skin are perfect for the ethereal wedding look and individual lashes (not full set of semi-permanents – read my previous piece on eyelashes) used subtly at outer edges to create curl and kick out of the eye – amazing for photos.
There were some subtle, beautiful red stained lips at Badgley Mischka when added with a 'clean' face – very classy and timeless.  I also really liked the use of rose gold tones over the whole face.  For someone who does not wear a lot of make up or dislikes lots of colours this is perfect. Use a similar colour on lids, cheeks and lips for a pretty look. Try Charlotte Tilbury Film Star Bronze and Blush in Light to Medium for the perfect glow.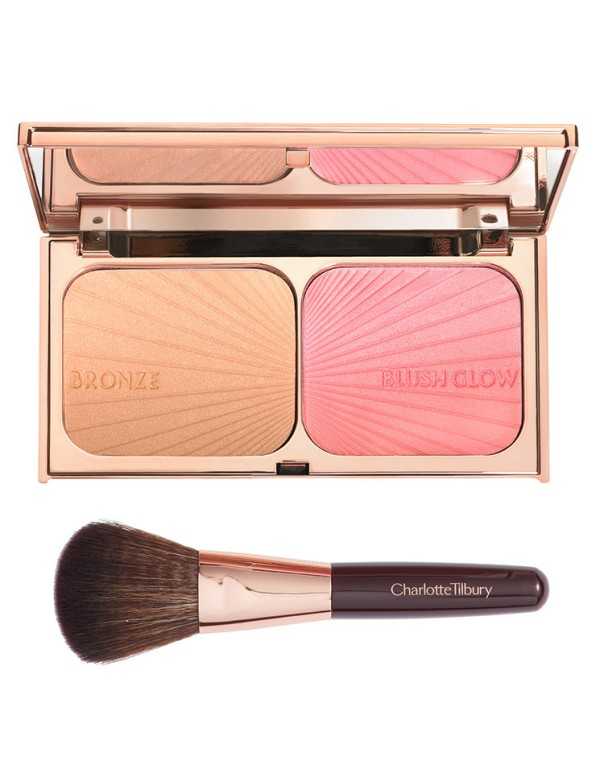 Some looks to avoid – neon orange, candy pink or glitter eyes.  Amazing for the catwalk but a little bold for a wedding!  Tight tribal style plaits – keep these for the festival season.
Top Image Credit: David Page Photography
Carey Hawkins is an experienced freelance make up artist and hairstylist, specialising in Weddings based in France. Carey is also a regular contributor to FWS. For more information visit: www.careyhawkinsmakeup.com