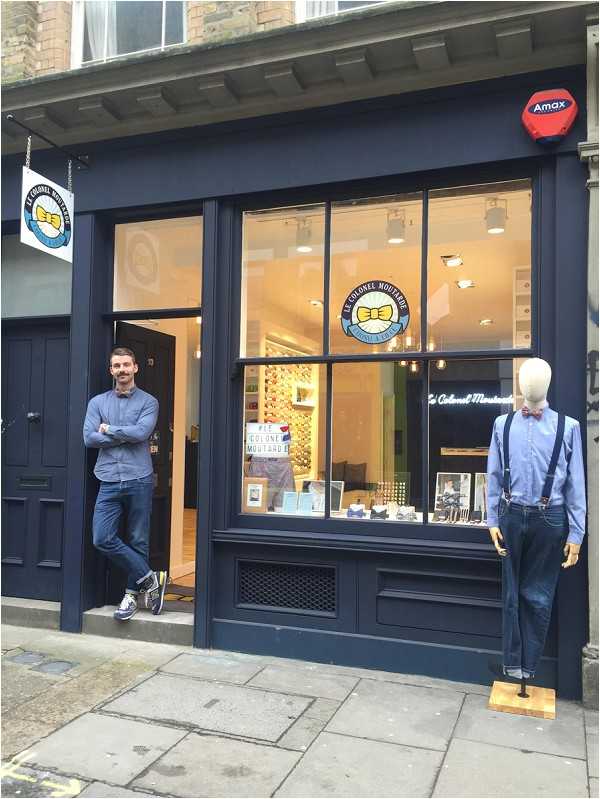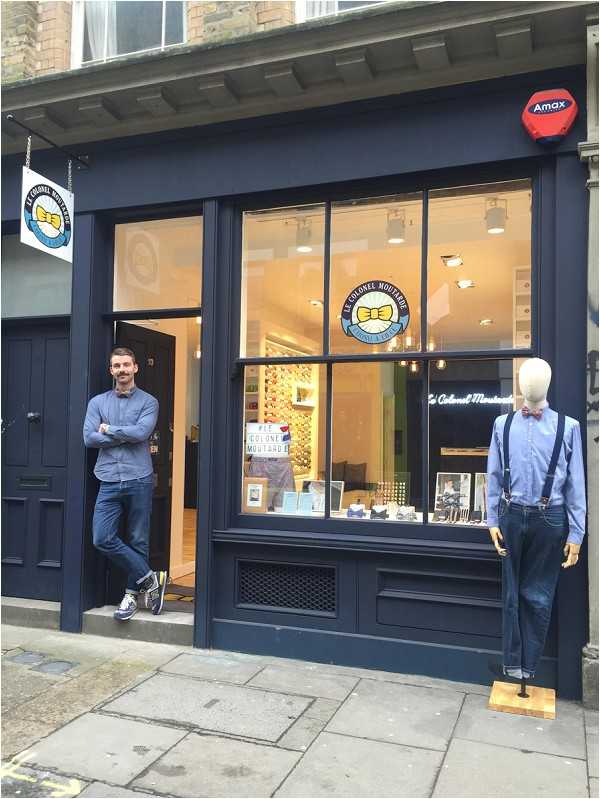 So often when wedding planning we get caught up in the fashion for brides that the poor grooms get left out, but not today as we are bringing bow ties back with Le Colonel Moutarde.
At the end of 2011, Rémi and Clémence decide to take the plunge and embark on the bow tie venture.  The unique story behind the creation of Colonel Moutarde started off because of a frustration. The Colonel Moutarde's mission statement is to bring bow ties back to the fashion front scene, by turning
an old-fashioned classic into a trendy wardrobe must-have accessory.
Le Colonel Moutarde products are still handmade in Lille, and Valentin, Clémence's younger brother is pleased to now welcome you in Paris, at their new showrooms, right in the heart of the capital.
The choice of the name "Moutarde"- meaning mustard in French- refers to a colour which was totally obsolete, but is definitely back in trend today.
Men have always worn stuff round their necks, i.e. ruffs, all sorts of ties etc.  There are disagreements over the origins of bow ties. We tend to believe in the following story.
During the one hundred years war, Croatian mercenaries had shirts that were difficult to fasten, but they had to protect themselves against the wind and the rain. They would therefore tie a piece of cotton round their neck to do so. Louis XIII was very fond of this new accessory that made his knights look
elegant. Bow ties were born !
What about the XXIst century?
Bow ties are back thanks notably to renowned artists who wear them proudly.  They'll make you stand out from the crowd, in a standardized society.   They're also a fun accessory.  You can dare colour, easily follow a dress code. Worn together by several, they'll make you feel part of a team and are great for groomsmen for weddings.
Wearing a bow tie is a real fashion statement! This small accessory will add edge to any outfit and revolutionize your style !  Traditionally made of silk, the Colonel Moutarde uses mainly Liberty of London
® fabrics, Japanese cottons, Poplin cottons, and wool.
The Colonel Moutarde does not do collections, but certain classic bow ties remain constant in the range.  Our Lille workshop offers over 300 fabric references to combine. Always in search of inspiration, it's very often our findings that guide our creation. All our bow ties are handmade and sewn in Lille in the Colonel's boutique, as unique pieces or in small series.
Liberty of London® fabrics are both timeless and terribly trendy at the same time. They are particularly appreciated by grooms who can co-ordinate them with their wedding style and colour scheme.
The Colonel appreciates the fineness of these fabrics, which are a delight to sew. They naturally bring to mind floral patterns, but also contemporary and abstract motifs, that really work for customers in search of originality.
With reference to the Japanese culture, the Colonel is a great fan of Japanese motifs, which have become signature patterns for the brand.  They are integral parts of the Japanese culture and considered lucky charms.
They are often used to make children's clothes or kimonos. These graphic prints are in the spirit
of the times, both of classic inspiration and extremely cool. For a year or two, you've been finding them in decoration too.
The Colonel offers specific services for events such as weddings, and family or formal events.
Customers who need a gentle steer in the right direction for their big day can book an appointment in one of our boutiques for an image consultation. Le Colonel Moutarde offer personalised styling advice, or suggestions about a colour or a scheme you'd like to follow.
If you are a bride in the UK, Le Colonel Moutarde has just opened a store in London, 10, Cheshire Street, in Shoreditch.
To browse the range of wonderful bow ties available from Le Colonel Moutarde visit their website here.
Model suits from Samson
Sponsored by Le Colonel Moutarde