Hello lovelies, it's a romantic boudoir bridal photo shoot in Paris kind of day here on French Wedding Style.
Have you ever experienced a boudoir shoot? I've seen over the years the popularity of this type of shoot rise with many women revealing that they've never felt as confident as they did at the shoot.
I've never really considered boudoir photography myself but I have seen some stunning, very tasteful examples. The shoots I have seen show the elegance and beauty of the women in them and that I adore.
I'm not sure I am brave enough to have a shoot myself but if I was going to bite the bullet so to speak I'd choose a very feminine, soft, romantic style shoot with lots of natural light much like today's pretty affair by Paris Happy Pictures.
You'll discover delicious treats, gorgeous blooms and delicate lingerie all at a very pretty setting in Paris today…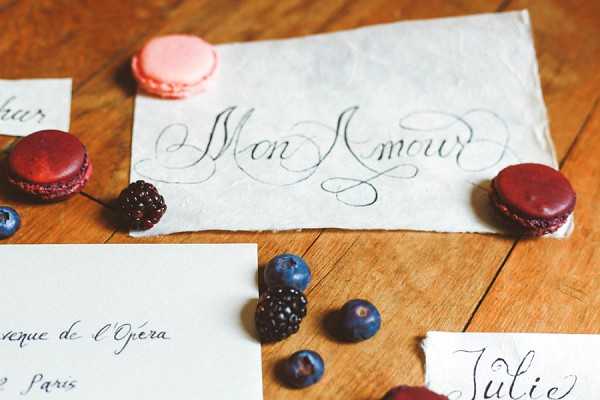 "Many brides are still hesitating to do a boudoir bridal photo shoot. Some of them think that it's not that important as other wedding pictures, others tell me that they do not have a beautiful room or they do simply feel shy. However these pictures can immortalize that unique and romantic moment when you are not yet a wife but still a bride."
"Can you imagine how thrilled your husband would be to receive some boudoir shots of you before your wedding? And what if yours were taken abroad? It's something totally unexpected, and you'll cherish these photos for years to come."
"I think these pictures might change your opinion of boudoir photography if you think it's not for you. This set of images celebrates one of the most exciting moment in a woman's life."
"Whether you plan on taking some time with your photographer the day of your wedding, or in the weeks leading up to it, it can help you become comfortable with your beauty and body. Years in the future, you can look back and see what you looked like right before you walked down the aisle. "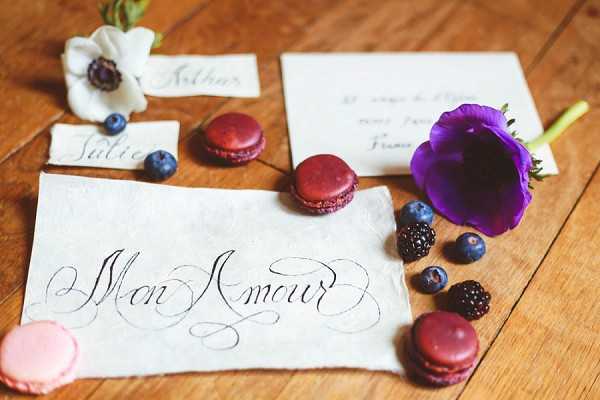 "Julia was visiting Paris without her fiancé and we've decided to make him a surprise – bridal boudoir pictures. Our idea was to keep things natural, simple and beautiful."
"To bring this to life, we drew our inspiration for this project from the spirit of this most romantic city in the world. A romantic-moody palette of powdery gray, lilac and rose was introduced to go with a simple but elegant lilac dress."
"Rose, grapefruit, raspberry and blueberry macaroons, fresh blackberries and blueberries helped us to create the girly bridal morning Parisian atmosphere. For the bridal morning pictures we've chosen a typical Parisian apartment with a fireplace and moldings. It was enhanced with beautiful flowers – ranunculus, anemones and hortensia."
"Julia was wearing simple lingerie, natural hair and makeup, and her delicate veil. It couldn't be more perfect. A love letter from her husband to be, drawn by André Lorman, part of Paris Happy Pictures team, bare feet and soft movements created an intimate ambiance. It was romantic, charged with electricity and quiet all at the same time."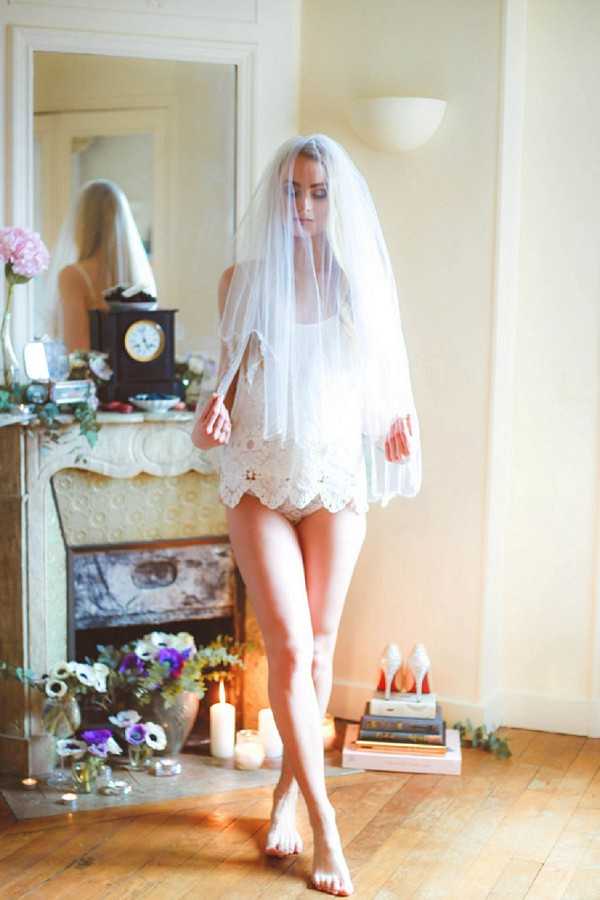 "After the privacy of the home, we headed to Palais-Royal, a palace located in the 1st arrondissement of Paris."
"Julia was wearing the lilac dress and jewellery from Saoya. Majestic walls and columns of the Palais Royal underlined the beauty and the fragility of our bride. And blooming magnolia trees announced the arrival of spring to Paris."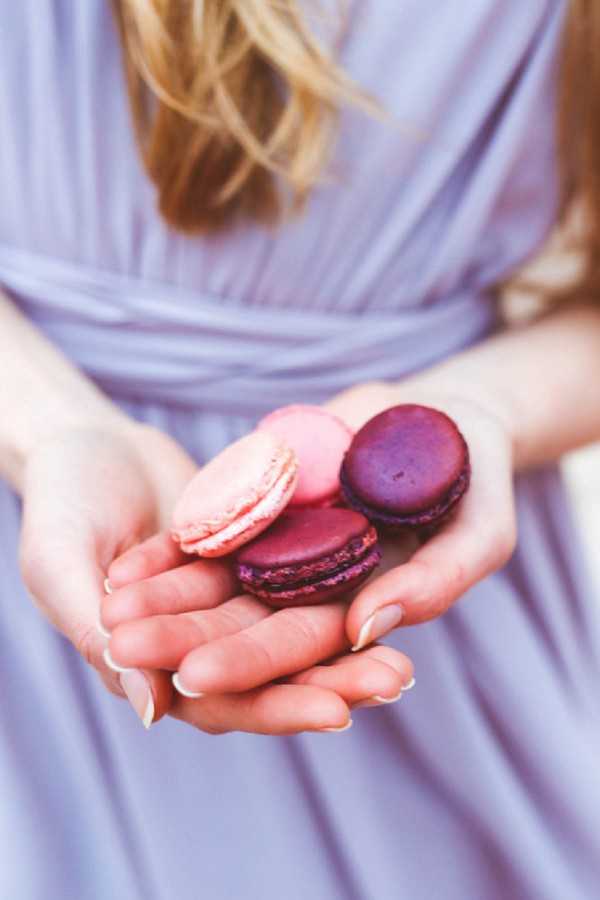 After seeing today's very feminine shoot would you consider a boudoir session? Has this feature made you re-think this genre of photography?
With love,
Christina x
Romantic Boudoir Bridal Photo Shoot in Paris Snapshot
Wedding Vendors
Photographer: Paris Happy Pictures | Shoes: Christian Louboutin & T.Taccardi by Kari | Blouse: Forever21 | Lingerie: Gisela Gisela | Dress: Asos | Jewelry: Saoya