Hello lovelies, and a happy Tuesday to you all! On the blog today we have a bohemian styled wedding in Montpellier, that we think that you are going to adore.
Helen and David's wedding in Montpellier took place at the stunning Domaine des Moures, which is right on the coast and captured by Aurélie Demarez. And on hand as their planner, they had the fabulous FWS vendor Maeva from Emeraude & Coton who is going to share their story and big day with us…
About the couple and why they chose a Destination Wedding in France
Helen and David come from Ireland, and chose Languedoc's area because David's parents have a holiday house in Sète. They met five years ago, and Helen already had a teenager.  After the proposal, they started to plan their Destination Wedding in France, and wanted the South specifically to enjoy of the sun, good weather, and organize an outdoor ceremony and reception.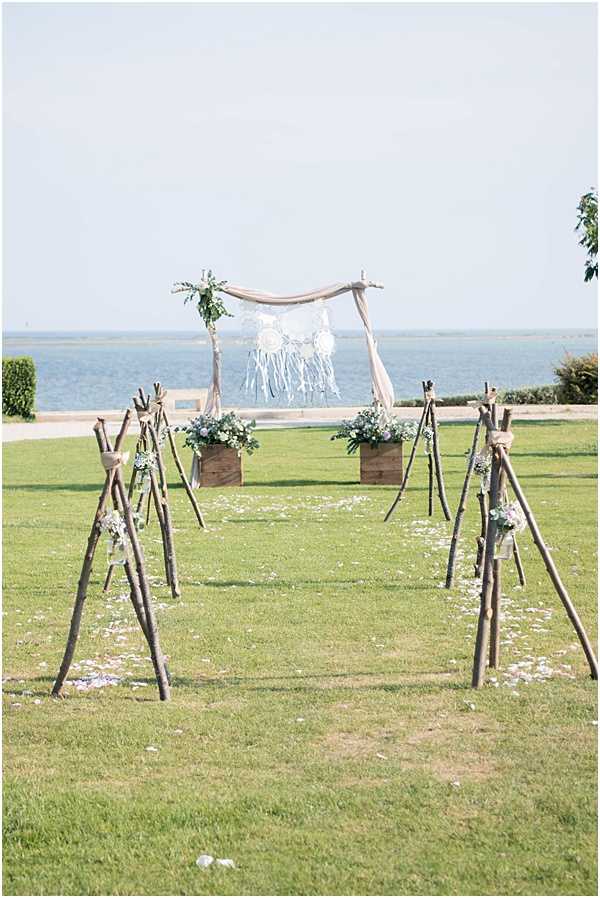 They found the Domaine des Moures thanks to web research and completely fell in love with the venue, deciding to have their wedding in Montpellier. It's a vineyard style domain, surrounded by lands, wheat fields, and a lake with a private beach access.
The Domain is renovated with the authenticity and character of South's venues, and old stone.
To gather their 80 guests, they imagined a bohemian and relaxed atmosphere, outdoors, with lots of dream catchers, flowers, food, lace. Only natural elements for the design, but with French food and wine, and dancing music.
Wedding suppliers research and summary of the day 
They contacted me at the end of 2017 to find the suppliers they needed: a caterer, florist and designer, filmmaker, and musicians. They choose Aurelie Demarez a local photographer because she works in a 'lifestyle' way, and covered their day from the preparations to the beginning of the party.
The Bride's preparations started at one of the cottages onsite, with her sisters and friends (they helped her with make up, hairstyle and dress). Helen found a perfect mix between sophisticated and elegant look, and a bohemian style. A touch of flowers on the hair, a veil, and she was ready!
My team and I welcomed the guests on the garden with a candy and lemonade wood bar designed by Charlie & Com agency. Then, we guided them to the ceremony conducted by celebrant Ray Thatcher, where they enjoyed of speeches, vows, and a great view of the lake, with a bespoke arch, designed by Marguerite Flowers Truck. Helen chose her sisters as bridesmaids (look at her amazing blue eyes!), and to be guided by her father and son until her husband-to-be.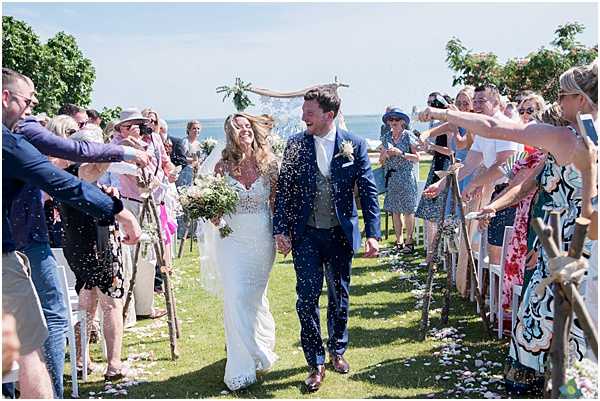 Cocktails and canapés were prepared by Le Delice des Princes  catering team, and entertained by jazz band Cordes Nomades. Then, the bride and groom chose a classic seating dinner with a main, and a gorgeous dessert buffet with a traditional French Pièce Montée.
All the decoration was perfectly harmonized, with romantic details in white and pink, and an amazing foliage of an eight metre garland for the top table. Some fairy lights and rustic elements gave to this wedding a warm atmosphere, as you can see on Erik, from Le Studio Video's film.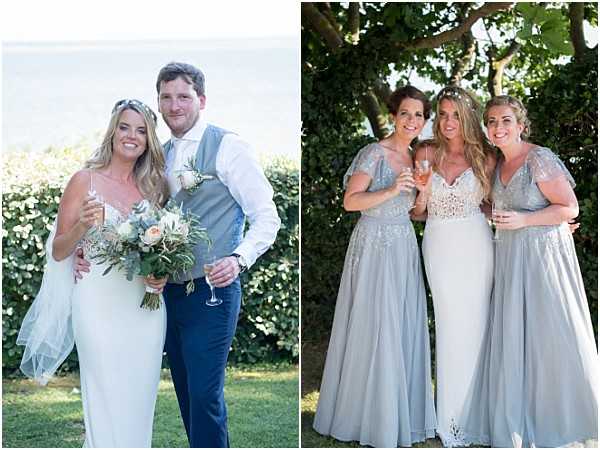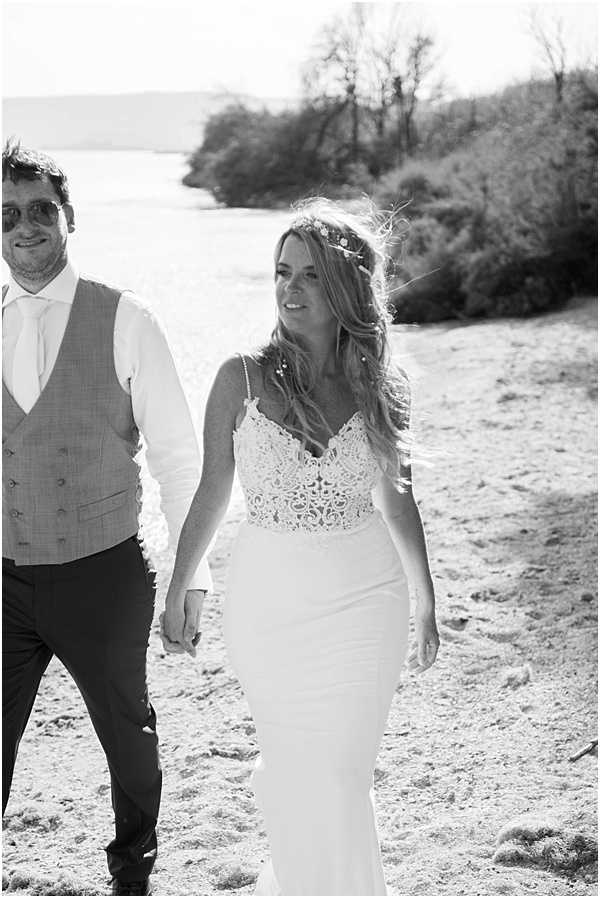 The party started after the first dance, sung by Helen's Dad, and a first part with a live performance of the gypsy band. Finally, James Carr English DJ, entertained the dance floor all night long, with pop-rock and modern music!
The day after, I planned with Helen and David a second meal on the beach, as they could enjoy with their guests of a summer brunch. They sincerely told me it was "the best day of their lives"  and I was really proud of all the vendors team which worked on the day.
Congratulations to Helen & David on their wedding from everyone here at French Wedding Style! xx
Wedding in Montpellier – Snapshot
Wedding Vendors
Venue Domaine des Moures | Photographer Aurélie Demarez | Planning  Emeraude & Coton | Caterer  Le Delice des Princes | Videomaker Le Studio Video | Design  Charlie & Com | Flowers  Marguerite Flowers Truck | DJ James Carr | Live Band Cordes Nomades | Celebrant  Ray Thatcher