Styled shoots are a wonderful way of creative minds to come together and simply play!  That was the inspiration behinds today's bohemian bridal inspiration shoot, a collaboration of diverse wedding providers looking to create a natural, intimate styled shoot with a bohemian touch.
French photographer Emeline Hamon was one of the creative heads behind the shoot: "Motivated by the hippy movement, my intention was to follow these influences, adding a splash of retro to create the overall ambiance.
The idea for a teepee and a table, where the bride and her maids of honour could refresh themselves, came quite naturally to me. A small cosy corner was created for their wedding preparation, where a secular ceremony and even a picnic or cocktail could be imagined further into the forest.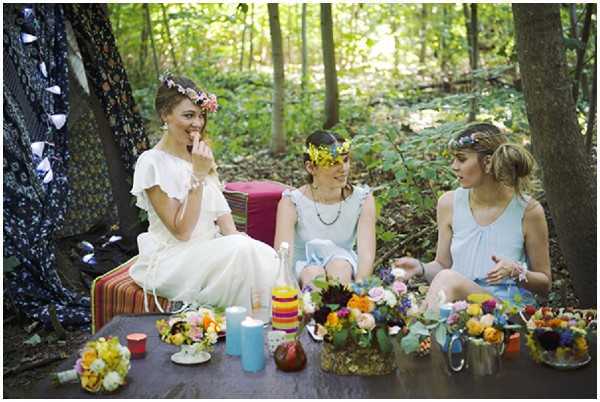 To highlight the bohemian atmosphere, the flowers were one of the important features. With Amy from Flowerjugs, we combined ideas and imagination to create the ideal milieu.. The creations of Aurelia Hoang corresponded with the bohemian concept I was hoping to achieve on the day, she trusted us with the pretty 'czerny' dress. In the same way that Les Roussoeurs accepted to dress the maids of honour with their beautiful garments.
To accompany the decoration, I chose Pret a Recevoir, who concocted up a perfect assortment of sweet treats. Mister M Studio added to the graphic creations with their stylish wedding invitation and part of the jewellery came from the talented Cecile Boccara."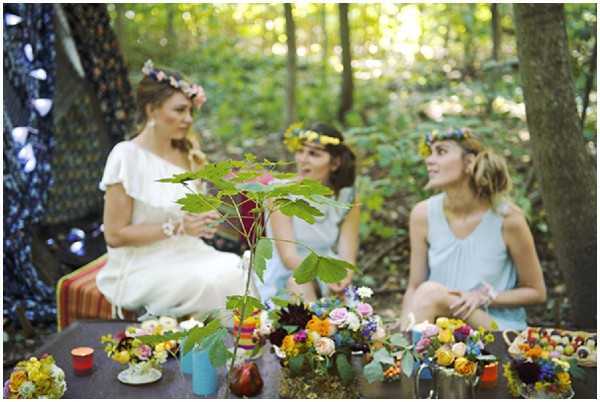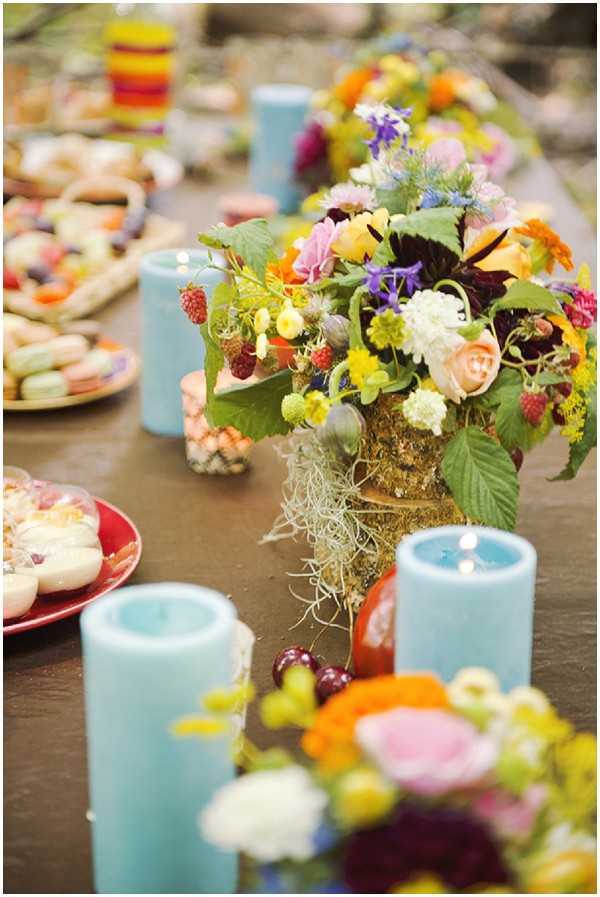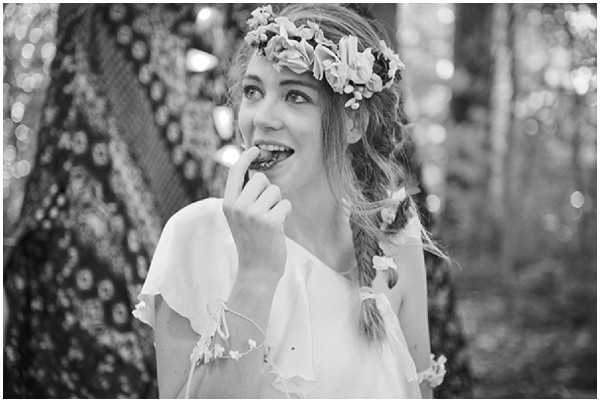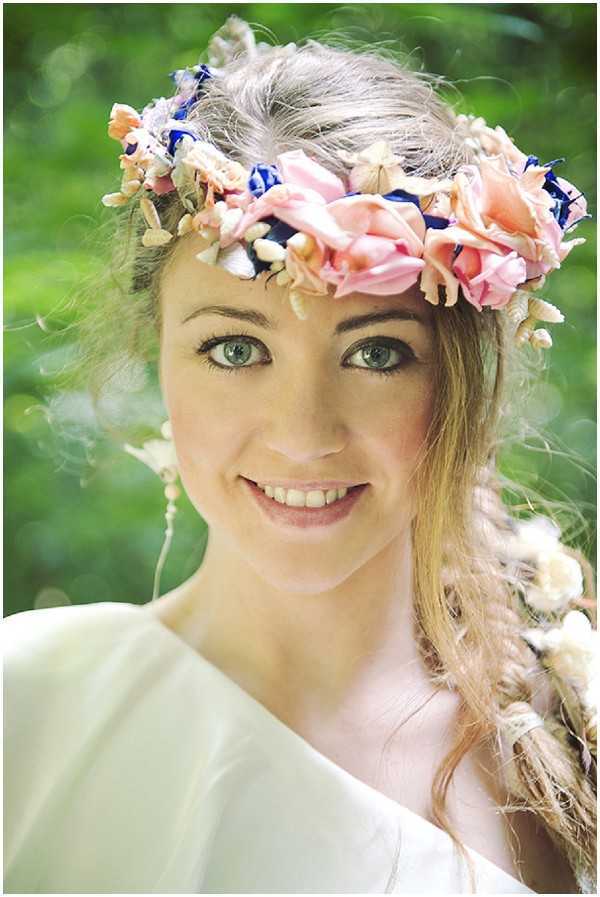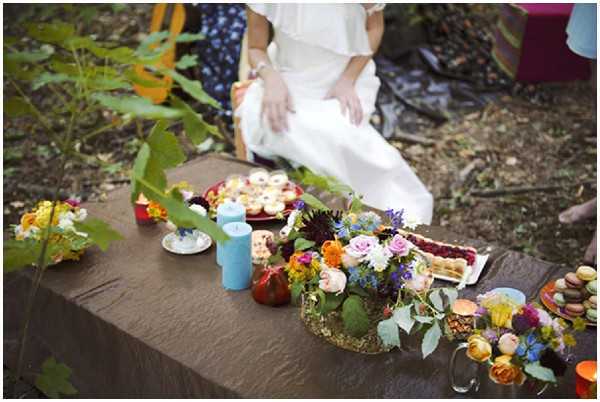 The floral decorations and headwear are so central to this bohemian look and florist Amy from Flowerjugs gives us an insight into her creative thoughts: "Emeline had the wonderful idea for this shoot, with a teepee setting, in the middle of the woods, using lots of vibrant colours. For example, the table was simply made with two logs and a plank, to have floor seating. The whole shoot was back to nature, bare feet and beautfiul girls hiding behind the leaves.
We decided upon very colourful flowers and decoration to stand out from the pretty pastel dresses and wild setting. A romantic, rich shoot with fun creative artists!"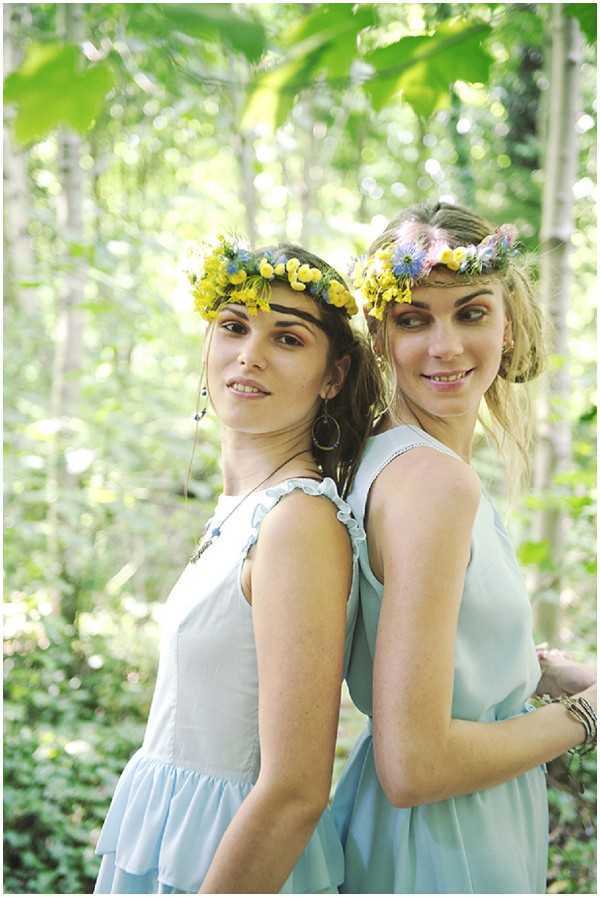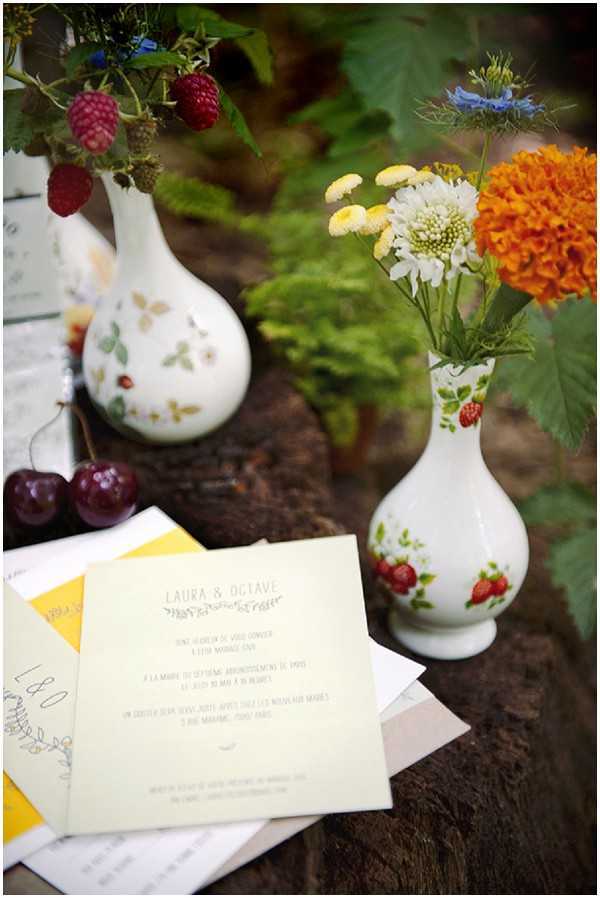 If you are planning a Boho wedding then be sure to check out the list of suppliers below who contributed to this hippy shoot.

Wedding Suppliers:
Photography: Emeline Hamon;
Décoration: Idem.
Flowers: Amy Humphrey, Flowerjugs;
Wedding Dress: Aurélia Hoang;
Bridesmaid Dresses: Les Roussoeurs; & Les Roussoeurs
Hair and Make up: Eden Tonda;
Catering: Prêt à Recevoir;
Stationery: Mister M Studio;
Jewellery & Accessories: Cécile Boccara;
Models: Cyrielle, Aude & Camille.