Good morning gorgeous, I have some wonderful French wedding inspiration to share with you today. It includes a gorgeous Chateau, a romantic blush gown, pretty blooms and lots of delicate lace, I'm in heaven! But first I have to say it, there are only 4 weekends left before Christmas, can you believe it?
Much of November for me has been spent finishing off some decorating and gardening in preparation for December. I'm beyond excited to watch Christmas movies on a December Sunday afternoon, decorate my home with Christmas sparkle and pop my favorite Nat King Cole album on while I glance through Christmas magazines. I can already smell the mulled wine and taste those mince pies. Anyway I've said enough about the 'C' word for now so lets head to the wonderful Champagne region for a dreamy blush and copper inspired shoot.
In early October the gorgeous Chateau de Mairy near Paris hosted a wonderful wedding workshop. Today Anouschka Rokebrand Photography who organized the event will walk us through this very chic styled shoot…
"During the workshop we photographed multiple shoots one of which being this stunning blush & copper coloured styled wedding shoot with real couple Tammy and Luc. With the beautiful chateau as a backdrop, it all fit so perfectly together."
"Tammy wore a stunning custom made blush and lace gown by Unielle Couture which was made especially for this shoot. Delicate fabric with even more delicate lace and it looked simply gorgeous on Tammy."
"The beautiful handmade veil and headpiece were created by our favourite designer SIBO Designs."
"Authentic French touches with soft, subtle colours and a pop of copper made this shoot a dream to photograph!"
Beautiful blooms truly are the perfect finishing touch to any wedding day. The very talented Don Florito has created some show stoppers for today's styled shoot.
"Beautiful delicate pearls finished off Tammy's romantic look, lovingly created especially for the shoot by DRKS."
I love the fine art feel to this romantic set up, even the napkins are personalised by the very talented Mein Monogramm. I must admit I'm going to be on the hunt now for copper coloured cutlery!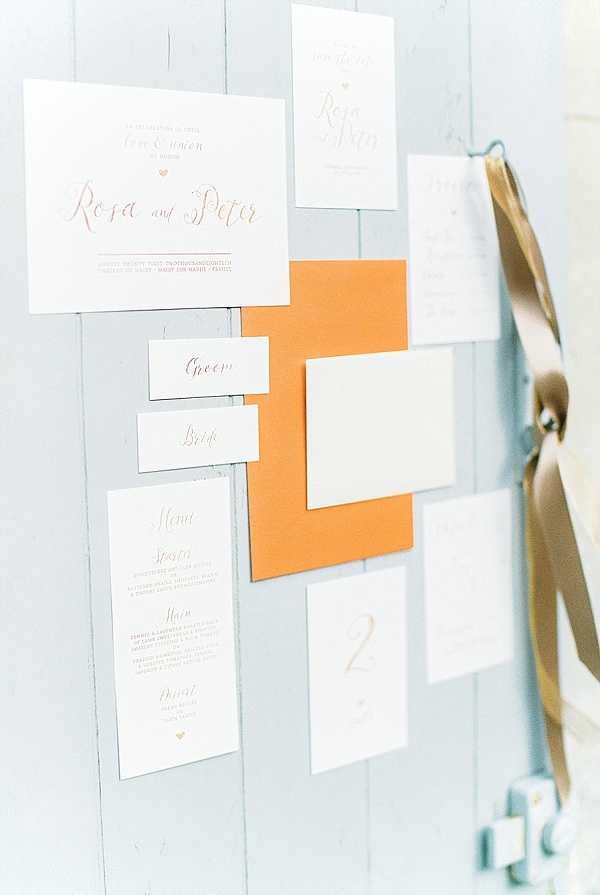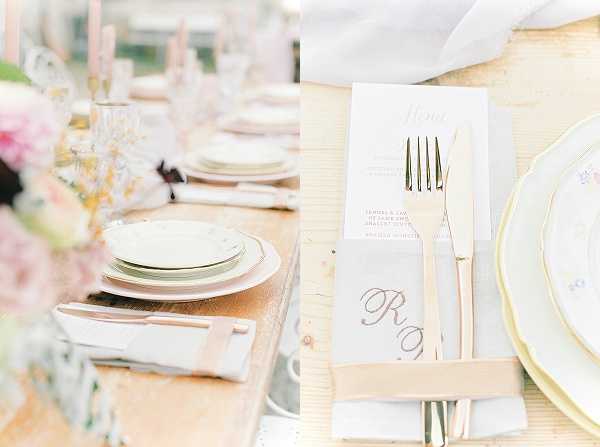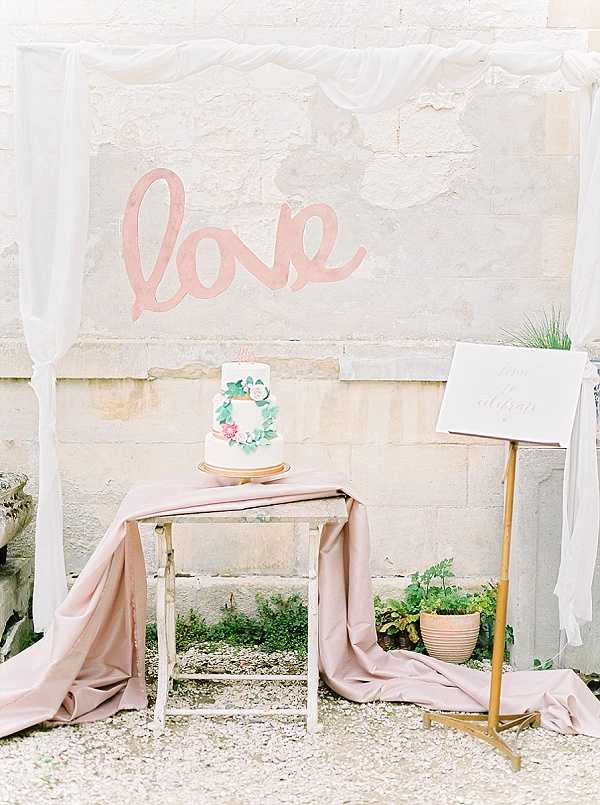 "The cake, made by our models Tammy and Luc of Sugarlips Cakes, featured delicate floral details and Susanne our stylist had placed it on a copper coloured cakestand and created a gorgeous backdrop with the text Love and beautiful fabric draped around it for that fine art feel."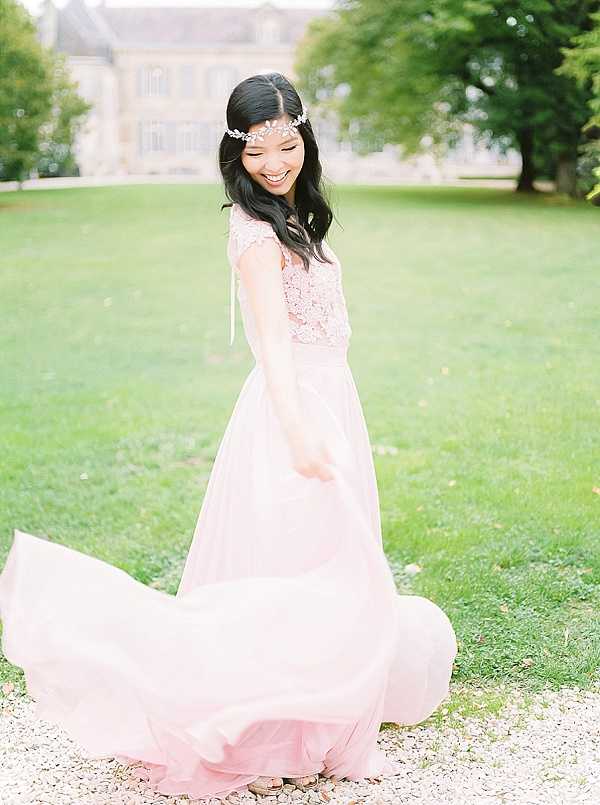 "Susanne had created a gorgeous table, using authentic French tableware and glasses, copper coloured cutlery and stationery with a copper font."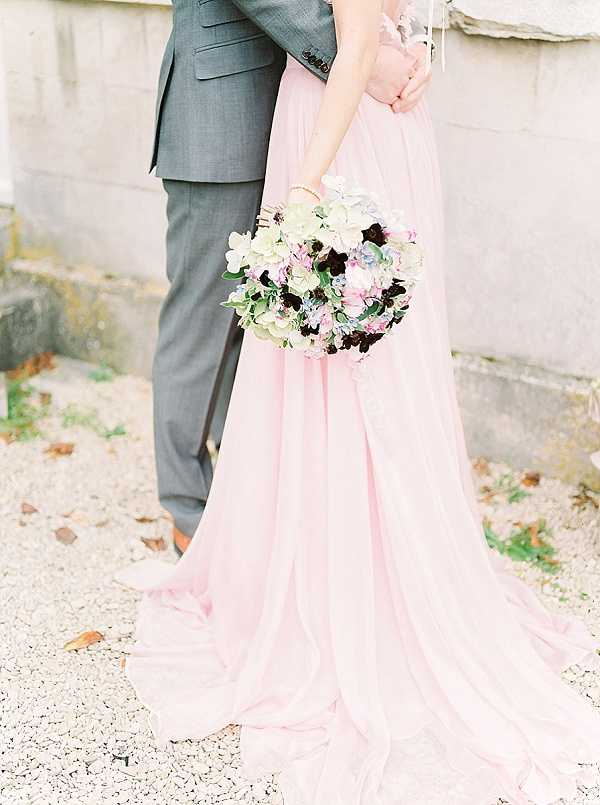 I loved preparing this gorgeous feature for all you lovely readers, I hope you find it inspiring for your up and coming nuptials, happy pinning!
For more French wedding inspiration click here.
With love,
Christina x
Blush and Copper French Wedding Inspiration Snapshot
Wedding Vendors
Photography: Anouschka Rokebrand Photography | Venue: Chateau de Mairy | Hair and makeup: Marianne Roza for The Beautiful Bride Company | Gown: Unielle Couture | Headpiece and veil: SIBO Designs | Jewelry: DRKS | Stationery: Leintjes Exclusief | Styling: RedWhiteBluePink | Flowers: DON FLORITO | Candlesticks, glasses, dinnerware: Hélène Millot Furnishings | Napkins: Mein Monogram | Cake: Sugarlips Cakes | Food: Ajda Mehmet Foodstylist | Shoes: Jimmy Choo