Are you planning a romantic proposal? Then todays post all about the best places to propose in Paris is the perfect read. Lets take a tour and explore the breathtaking sights of this incredible city known to many as the city of love!
Paris has to be one of the most romantic cities in the world. It's the perfect destination to pop that all important question to the girl of your dreams. You'll be spoilt for choice when making your plans and choosing the spot to get down on one knee. The city is filled with famous landmarks, historic art galleries, typical french markets, breathtaking architecture, fashion and so much more.
Here's our top 5 locations to propose in Paris…
Palais Royal
In the heart of Paris, across from the Louvre, visit a "village in the city" at Palais Royal! Check out Scott and Katelynn's awesome Palais Royal engagement shoot in Paris captured beautifully by Jennifer Hodder Photography.
The Louvre
"We were inspired by the history, love and elegance of the city of Paris. One of our favourite buildings in Paris is the Louvre, which is surrounded by the Jardin des Tuileries. It's a place for love, it's more than just another building. The large windows, beautiful architecture and details brings this place to life and makes it the perfect location for two lovers."  Check out this dream engagement shoot in Paris captured by IheartParis Photography.
Alexandre III Bridge
Head to the most ornate bridge in Paris, the Pont Alexandre III not only is this elaborate bridge a picture perfect spot it has one of the best views of the iconic Eiffel Tower. Top tip: Best time to be there is at sunset – you'll understand when you see the views!
Parisian Cafe
Why not indulge in a delicious French breakfast, Marie Antoinette inspired afternoon tea at Laduree or a glass of something cold while you people watch in this amazing city. Your girl won't suspect a thing, a perfect way to catch her by surprise.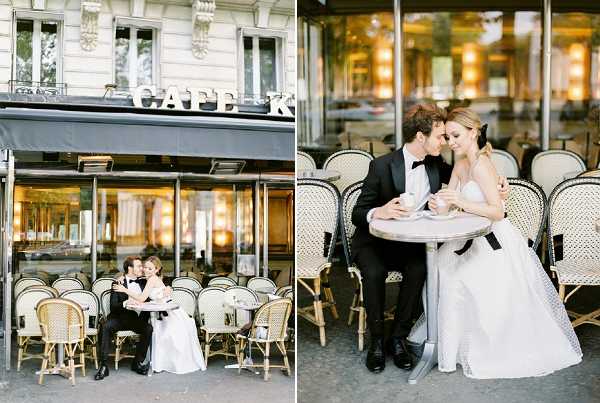 Eiffel Tower
It's the most famous landmark in Paris – The Eiffel Tower. There are some wonderful spots around Paris which have unspoiled views of this iconic structure. Why not head to Trocadero at sunrise for one of the best spotsto propose in Paris!
Cherry Blossom
Last but not least – one of the best times to visit Paris has to Spring, it's perfectly romantic and full of cherry blossom making for the most breathtaking pictures! Why not incorporate the beautiful spring blooms and the iconic Eiffel Tower into your "Will You Marry Me?" – dreamy!!
Top tip when planning to propose in Paris: Make sure to capture this moment – it's a moment you're both going to want to remember for years to come. Why not plan a photo shoot during your stay in the city and discuss with your photographer about capturing a surprise proposal during your shoot – she won't suspect a thing and will be looking fabulous for the pictures which she'll appreciate. Remember have fun, it's a once in a lifetime moment!