If you are reading this, like us you are biased and love a fabulous French Wedding! However today we have a real treat for you as we've combined the very best of the best, the most fabulous of the fabulous to bring to you The Best French Wedding Photography!
You will find below every wonderful image, a little from the vendor as to why they love the image and a link to their website, so be sure to check them out.
Now who/ what made our Top 15 Best French Wedding Photography list…..
Claire Morris Photography
"The perfect wedding photograph to me is made when pressing the trigger that moment my couple forgets I'm there.   It's that image that represents my couples true personalities and the energy of the day."
www.clairemorrisphotography.com
Catherine O'Hara
"I love this photo for the colours, light and atmosphere. It was the beautiful wedding in Provence of Christina and Julien and she wore a stunning vintage style lace dress which fit perfectly into the delicate surroundings."
Zephyr et Luna
"Camille and Julien had an "Alice in Wonderland" themed wedding. Julien wore the mad hatter's hat, and Camille the White queen's dress. All their guests played along with accessories, costumes…it was a very joyful day and we had lots of surprises! The decoration on the tables was exquisite, with lots of details from the books and the Tim Burton's movie. Since Alice in Wonderland is my favorite book of all times, I was really happy to see all the characters come to life!"
Cinderella Photographie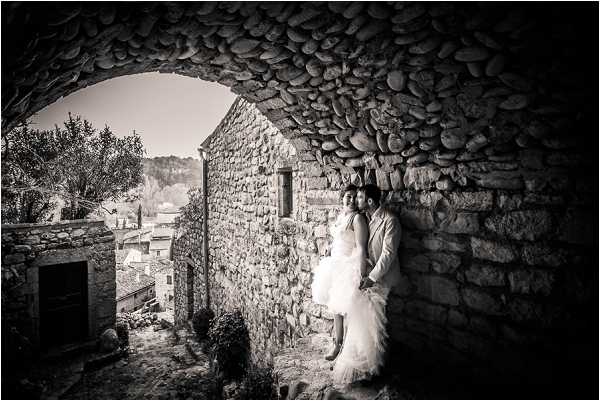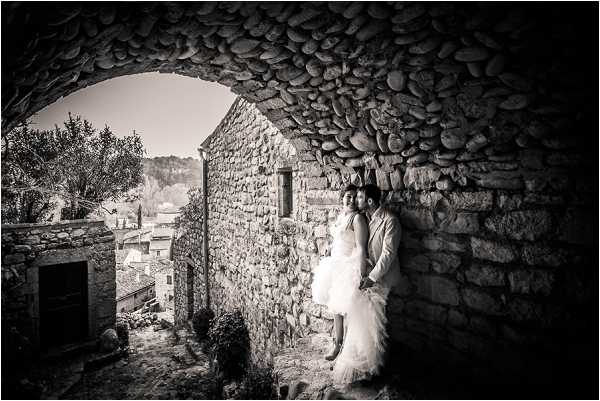 "I love this because it is typical French, with small streets, all in the stone, beautiful view etc."
Fleurs design By Faustine
" I love the green around the bride, and the light on the white dress, and of course my flowers! "
Image by Rue Valfère from www.fleursdesignbyfaustine.com
Simply Lovely
"This photo has been taken during a french wedding in Provence. 
We were in a wonderful natural park in a small village called Gemenos, the nature was splendid. The moment of this couple session was magic! The place,the light, the atmosphere was just perfect and the time seemed to stop between the complicity and the love of this couple. This photography blog from Barbara Witherite is our favourite one because when we look at it, we feel an intimate and intense feeling of complicity and love between Michael and Natalie, and the warm light behind give a magic touch on this picture as if they were outside of the reality, in a dream, only the two of them in their cocoon of love…"
Airsnap
" I choose this one, because it really shows the happiness of this wedding, and i like how the guests surround the couple, like a frame.
Probably one of our best wedding memories this year. We loved everything from the simple and rustic wedding Sarah and Olivier in Rouret, between Nice and Cannes, in the Alpes Maritimes. Lucky for us, wedding photographers and cameraman. Every detail is perfect. From the family home, wedding cake, through the "dancing shoes" offered to the guests. An intimate wedding, filled with joys and emotions. Even if it started raining, this did not stop our married to have fun all night. Once again for Airsnap, an international and multicultural wedding with guests from the four corners of the world to share this wonderful moment. "
David Jenkins
"I love this image because it sums up some of the incredible landscapes in France, this was a wonderful backdrop for a wedding taking place at a private chateau in Contrevoz near Aix Le Bain in the East. "
Story of Your Day
" I worked at this gorgeous wedding at Chateau Rigaud as Videographer alongside Paul Atherton. The couple were Irish and as you can imagine it was a real party. In the craziness of it all we took them outside for some peace from the drinking and dancing … this was a beautiful cherished moment as the sun settled over the vineyards.  I love it's stillness and just how much this couple love each other shows perfectly in this image captured by Paul."
Image by Paul Atherton from www.storyofyourday.co.uk
So Elegant by Nina
"This picture has been taken in Hotel de Dieu, in Toulouse – France .
 The bride is wearing a very pritty, glamouros handmade headband inspired by French Bohemianism and 1920's Hollywood glamour . This headpiece adds that unique touch to your wedding ! "
Image by www.soelegantbynina.com
Atelier Déco'ps
"I like it because it's a winter bouquet just made for a bride I like so much, She ware lace and it was really nice with this style of bouquet."
Image by sandrahygonnenc.com from www.atelier-deco-ps.com
Gert Huygaerts
"Why this image?  The beauty and love in the image was really unique to me…it all fitted perfectly…  the light, the gorgeous couple, the amazing Alexandra Grecco gown, the beautiful Château Bouthonvilliers… just one word: LOVE !"
Lydia Taylor Jones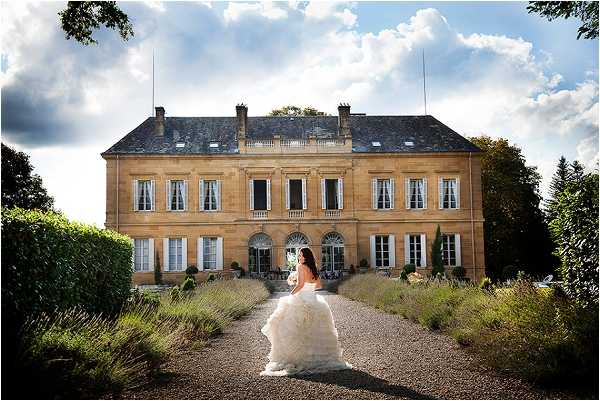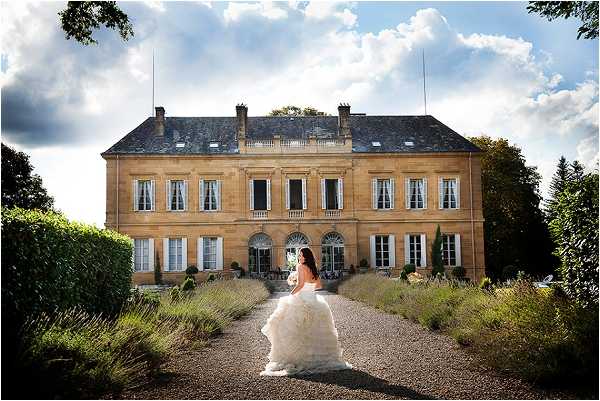 "I love this image because it captures the glamour and yet the freedom and relaxed spirit of a wedding in France."
Bohème Moon
"A wedding in France (Provence in this case!) means being in touch with nature and being able to incorporate nature into the wedding theme….. Nothing says Provence more than using a few olive tree branches and lavender for the hair do or picking a few grapes for decor….. "
Christina Sarah
"I fell in love with Villa Ephrussi de Rothschild on my recent visit to the Beverly Hills of the French Riviera. Not only does the villa ooze elegance, Béatrice also designed the main garden in the shape of ship's deck, decorated with waterfalls and ponds, with the Temple of Love at the bow. It truly is a piece of art and a delight to experience."