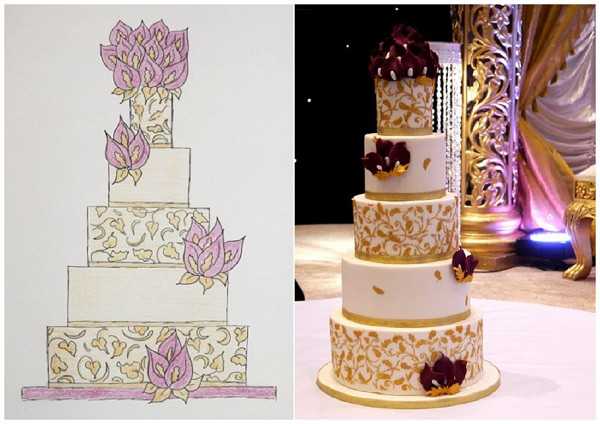 It is that time of the month again when I dedicated the blog to the wonderful world of cake, with the help of wedding cake and baking expert Cakes by Beth.
Today we are looking at how to book or oder bespoke wedding cakes, something which 6.5 years ago for my wedding I had no clue at.  I know that I've said it before, but wedding trends have changed so much over that time, that the choice and creations now are just so inspiring and completely personal.  Back then it was mostly choosing from catalogues of cakes, that were plain white with bows and lace on.
I knew I didn't want that so instead, I opted for a cake tower of cheese!  However with the help of Cakes by Beth on how to order a bespoke wedding cake, I would be more prepared and of course I know who I am going to for my vow renewal cake!
*****
Beth: "Choosing which suppliers to book for your wedding can be a daunting process to go through as there is so much choice out there. My advice would be to start early, take your time and do your research as quite quickly, you will be able to put together a shortlist of those that stand out to you and that you would like to find out more information about.
Personal recommendations are great, but as everyone's taste differs, check out different companies' websites. Does their work have a definite style and does this speak to you?
Social media such as Facebook is a really good way of finding out about a wedding cake designer before you make contact. If their page is regularly updated, you know they are busy and in demand, which can only be a good thing!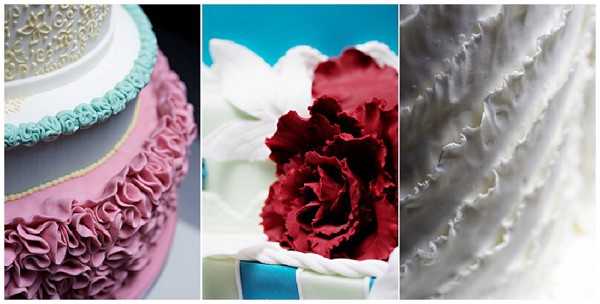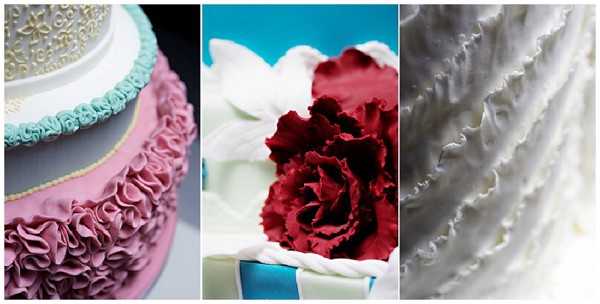 How to order a bespoke wedding cake
When making initial contact, the key information that a wedding cake designer will need to know is the date of your wedding, the location of your reception (even if you don't yet have a venue booked, an approximate location is enough to start with), how many guests you would like your cake to serve, and how they can contact you back with their response. This will allow them to confirm that they are available for you and can start to send you further appropriate information.
If you have any information about your colour scheme, the theme of your wedding or any other details that you have chosen already, this would also be useful to set the overall scene for the type of cake that might suit your requirements.
How to budget or a bespoke wedding cake
This is a difficult one. I personally don't commit to definite quotes before I have met with the couple and defined their cake design, or if they are based abroad, until I have had a detailed conversation and planned out the exact cake.
I don't copy other people's designs and so I am not able to quote for another company's work replicated. However, I do provide approximate costs for designs based on certain ideas and looks, and I have a list of "starting from" prices for different sizes of wedding cake.
If you know how many guests you would like to serve with your cake, your cake designer will know what sizes to suggest for you and will have starting prices for these. That way, you have a realistic idea of what budget to allocate for your cake, or can adjust your requests to fit in with the budget you had in mind.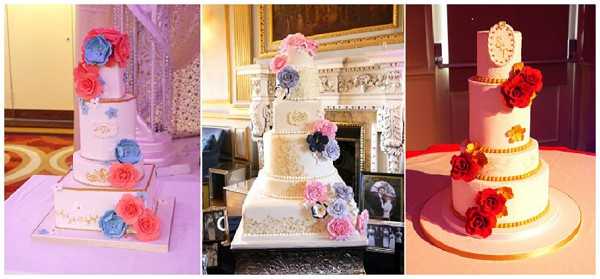 How to share your design ideas with the cake maker
I am always keen to see inspiration images from any source, from links to relevant websites to photographs of items you have bought. Pinterest is great because at a glance, I can immerse yourself in the couple's wedding and see how they want their day to look. I can then highlight certain elements and make suggestions on design ideas. It can also be updated so that I can keep up with how their wedding planning is progressing.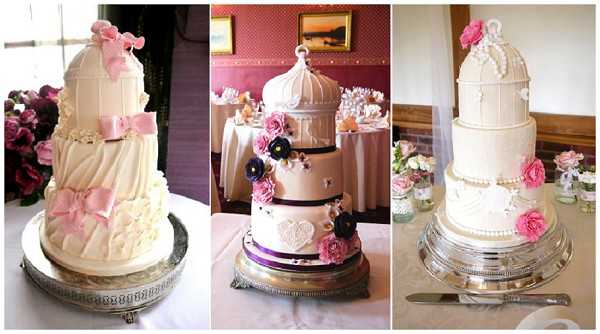 The Cake Consultation
Consultations, either in person or by phone, are a great way to get to know the person behind the business. I usually start by presenting the couple with their cake samples and opening up my portfolio for them to look through. We start to talk through the different elements of their wedding, from the venue to the dresses and flowers, the other food that will be served so that I can advise on a suitable cake size, and anything else that may be relevant.
I can then suggest options, put together mini line drawings of my ideas and pull out detail shots from my portfolio that help to explain and demonstrate my suggestions. I have a colour chart that allows the couple to pick out their colour scheme so that I can colour match any details when I'm back in my kitchen, and I may take photos of samples that the couple have brought with them. I also talk them through serving options and how their flavour choice for each tier affects how many servings of each flavour are available to guests.
Overall, by the end of the conversation, my aim is to have a really good idea of the couple's cake design so that I can provide an accurate quote for the cost of the cake.
Cake Sampling
I always bring cake samples to the consultation as I feel it is important that the couple try my wares and ensure that they are happy with the way my cakes taste. Before the consultation, I ask them to choose four flavours that they would like to try at the meeting, including any bespoke requests. This gives them a good base to work from.
Designing the wedding cake
After the consultation, using my notes and I put together an accurate quote based on the design we put together at the consultation, plus suggestions for any variations or alternatives as required. If the couple liked my samples and are happy with the quote, I fill out a detailed order form for them, after which the booking is confirmed with a deposit.
I then put together a sketch or sketches to show exactly how the cake will look in more detail. My sketches are actually scale drawings so that couples can get a feel for the scale and proportion as well as the details and overall look of their cake. During consultations, I often show couples the sketch vs how the cake looked on the day so that they know how my sketches translate into the real world.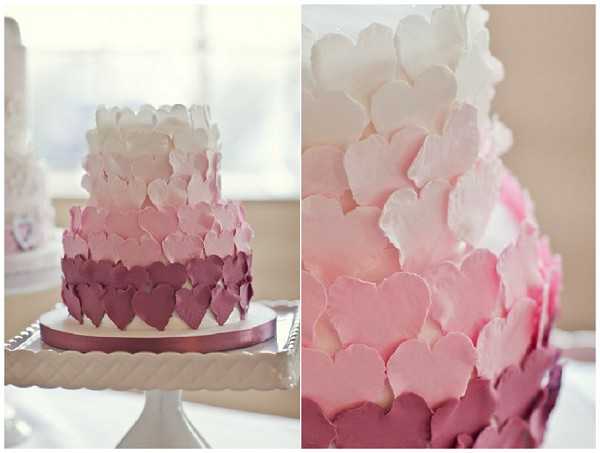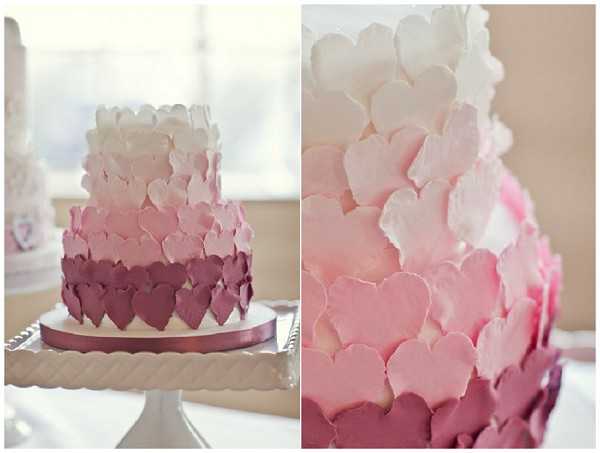 Commissioning your wedding cake
Once the design is pinned down, agreed a quote, the booking is confirmed and the deposit paid, there is often little to do until nearer the actual wedding day. Couples keep me updated if there are any changes, developments or confirmations of extra details that would affect their cake design, and if they have requested extra samples, their overall flavour choices and the order in which they would like these within their cake are added to the order form.
We also talk through the arrangements on the actual day of their wedding so I can time my arrival to fit in perfectly, meaning that the cake is stacked in good time but not in anyone's way during set up and so will be in perfect, undisturbed condition for when the couple and their guests arrive.
My overall advice when looking to book a bespoke wedding cake is to choose a company that you feel you can trust. My motto is that if your cake is admired, devoured and remembered, then I have done my job. The couples who book me appreciate this and trust my judgement and expertise, meaning that they are confident and content that their wedding cake will be perfect for them."
Thank you to Beth for sharing her insight into the wonderful world of cakes.
Don't forget if you have a cake related query for your wedding in France or culinary conundrum for your wedding dessert, send in an email to [email protected] with "Cake Question" in the subject line and you might appear on the blog.
To view more of Beth's stunning cake designs visit www.cakesbybeth.co.uk which are available for weddings across UK and France.