It's officially spring with the nights and mornings getting lighter, which means that wedding planning season is just around the corner!    Today it is time to catch up with real bride Tracey, who is getting married this year!
Tracey: Hello!
Hope you're having a wonderful 2017! My 2017 started out a little stressful when my contract job ended late January and wasn't renewed. :S But on the bright side, what is one good thing about being unemployed? Finally getting all the wedding planning done!
I think you'll see in this post that we've been busy. Thomas and I are proud that almost all our wedding vendors have been checked off the list, RSVPs are coming in by mail and on the website, and my family's travel and accommodation is booked for August! Yes, planning a wedding involves being a travel agent too.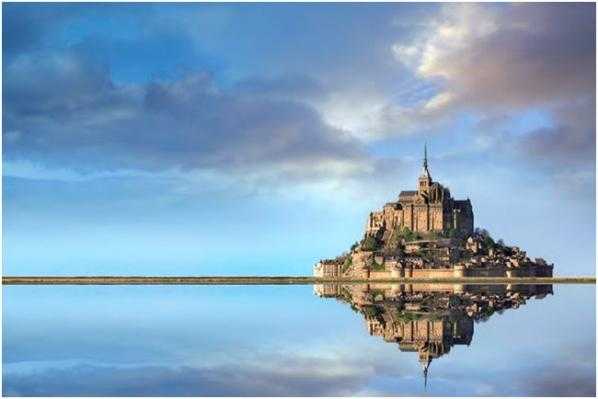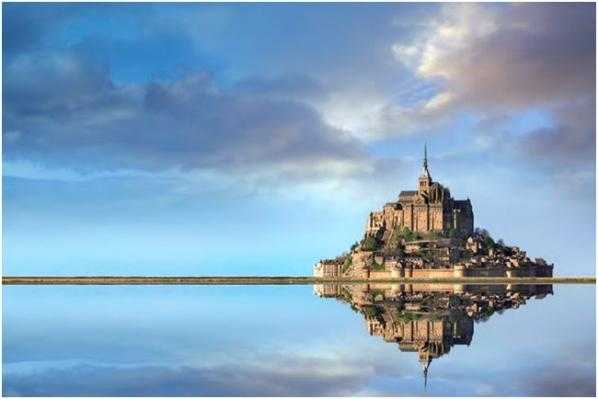 The planned trip for my family includes Montreux (Switzerland), Annecy, Vichy, Saint-Malo, Mont Saint Michel and a bit of Normandy before leaving out of Paris. Eight days! Too much, too little time? (Credit: Discover France)
Catholic Priest
To marry with a Catholic priest, you must go through a wedding preparation class that lasts a minimum of 8 months. We were beyond that deadline and were having trouble getting in contact with our priest's referral in the U.S. I called another Catholic parish in the Denver region, and was told I need to buy a $200 certificate, then a $200 marriage preparation class, then give the priest $200…and they weren't even marrying us! Frustrated, we finally just decided that we will use an officiant instead.
I still need to figure out how to incorporate French blue toile into the wedding décor. (Credit: Pinterest)
Florist
Another challenge was finding a florist. I had emailed two florists several times without a response. Months later, I finally decided to just cold-call one of them. That worked! For one florist, he told us his prices over the phone. However, his prices ranged from 3,000 to 6,000 euro, which was over our budget. We decided to do some more searching, and found a florist that checked off all our boxes and more!
He quoted us less than 2,000 euro.
His work is more in line with our style, natural and imperfect. J
He is very responsive by email, and even set up a Skype meeting right away with the two of us! That made us so happy!
He has experience working at the venue and knows well the owner.
He has already worked with our caterer! (They work together on the setup of the table, since the caterer will be providing the table linens and dishware.)
It was funny when we talked with the florist about American/French wedding differences, especially when it came to the bridal bouquet. In France the rule is that the bouquet is smaller than the bride's face. In an American wedding, the bigger and more extravagant the better! I think we're going to meet somewhere in the middle…
American Style bouquet (Credit: Pinterest)
Music
We are also so excited to have found the music for the cocktail and the DJ for the reception!
Drumroll please…………..
Quatuor Basalte for the cocktail
and
Vintage Vinyl Events for the DJ!
Thomas and I were close to going with a local DJ, when I came across Vintage Vinyl Events through French Wedding Style. I reached out to Josh, who lives in Annecy. We listened to his mixes and it got us dreaming about a DJ that was an expert with the American and French classics! His reviews were glowing, so it was a no-brainer. We're looking forward to dancing all night with him!
Finally, we found the perfect suit for Thomas! It was easy, we went to three different shops to get an idea of his sizing. Then we ordered the suit we had an eye on through the online website and it fit him like a glove. The sleeves and pant length need to be taken in, but the alterations are free!
Well that's enough details for now, I've got to get back to job searching. We need to make sure this wedding continues to be a reality!"
If you are looking for ideas and inspiration on planning your wedding in France, don't forget you can catch up with Belle Bride Tracey and you can find all the Belle Brides past and present here.
Wedding Vendors
Caterer: Traiteur Dumont
Cake: le Lautrec
Photography & Videography: Lifestories
Makeup: Adam et Elles
Hair: Amandine
Dress : LWD Bridal Denver
Reception Venue: Château du Guérinet
Engagement images by Purewhite Photography
Flowers: Stéphane Chanteloube – Fleurs Nature Créations
Music : Quatuor Basalte (cocktail), Vintage Vinyl Events for the DJ
Save