Have you ever been the group leader when you've organised a trip for friends?  It always turns into more work that you thought, sending emails, making sure that everyone has all of the information they need etc.  Now times that feeling by the number of weddings guests you have invited to your wedding, and you can image the amount of organisation and planning required.
Our real bride Emily, who is getting married at Chateau de la Ligne in 2017, talks us through how they are going to be keeping their wedding guests informed through wedding websites.
Emily: "Traveling to a destination wedding requires a lot of planning. For us, certainly, but also for our guests, the majority of whom will be traveling from California. Creating a destination wedding website will provide our guests with the comprehensive information about wedding events, and will also contain information about travel, lodging, food/drink, cultural sites, adventures to be had, etc. The thought of trying to convey a vast amount of information on an insert in a wedding invitation seems ridiculous!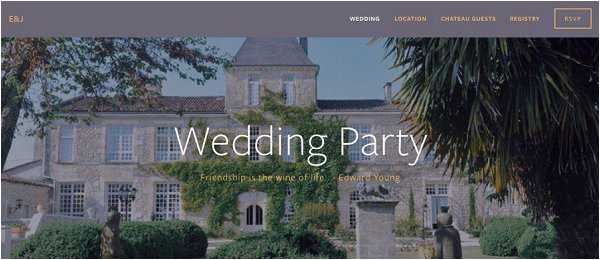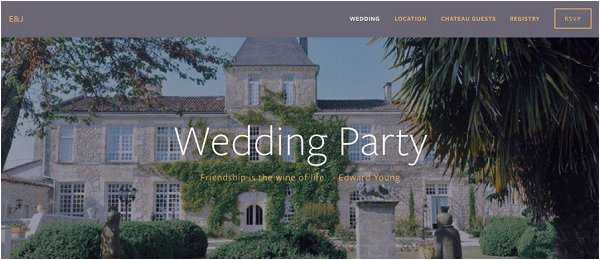 Before we began designing our wedding website, we searched around to see our options. Designing a website from scratch was out of the question, so we looked for sites offering templates. The good news is there are a lot of options (both free and paid), including, but not limited to (and not listed in any particular order): The Knot, Wedding Wire, eWedding, MyWedding, WeddingJoJo, Glo, WeddingWoo, and WeddingWindow.
We were also intrigued by the company AppyCouple. They allow couples to create custom wedding apps. A great option for couples looking to create basic websites conveying standard information, and who are inviting tech savvy guests.
Another great option for guests looking to have a website created for them is Riley & Grey. They have modern, beautiful themes, but are definitely not a cheap option ($35/month or $240/year).
Here is a great resource about the various website options available.
As we searched, we realized we were looking for a clean, sophisticated, and customizable template that emphasized photographs and allowed us to provide above and beyond the standard wedding information. We also knew we wanted a site that would allow us to collect our RSVP's electronically.
Oh, and to keep things simple we searched for a site that would allow us to purchase our own domain. Ultimately, we settled on a template created by Square Space. The template is perfect for what we were looking for, and we are thrilled with how our site is coming together. Included in this post are some screenshots and sneak peeks at our site-to-be, which is not yet complete."
 Emily's Wedding Vendors so far:
Venue: Chateau de la Ligne
Wedding Website: Square Space
If you are looking for ideas and inspiration on planning your wedding in France, don't forget you can catch up with Belle Bride Emily and you can find all the Belle Brides past and present here.