Hello lovelies, and a very happy Thursday to you! Today on the blog we are sharing a beautiful Chateau wedding in Provence, planned, styled and photographed by FWS vendors Mark and Clémentine Ward from Awardweddings. The wedding of Sarah and Fahad took place last September at fellow FWS vendor, and a stunning venue, Chateau La Tour Vaucros.
And for the eagle-eyed of you, there is another FWS vendor involved in the wedding – as the wedding flowers were created by Fleurs Design by Faustine!
Dubai-based Sarah and Fahad knew their friends and family would be travelling from far and wide to their wedding. With Sarah being British and Fahad being French, they decided on the South of France as the perfect destination for their guests to relax, make new friends and experience the beauty of the region.
Here, bride Sarah tells us more about the day…
The venue
The morning after we got engaged we started working on a rough guest list. Which sounds a bit crazy, but we really had no idea how many people we'd want to invite between us and we knew we wouldn't be able to choose a venue until we had a vague idea of numbers. We were really flexible on location and knew we wanted a venue that was typically French – we loved the idea of being among the olive groves and vineyards.
We did a lot of searching ourselves, but still hadn't quite found the perfect place, which suited our budget and number of guests. We had found our wedding planner Clémentine, of Awardweddings, and were utterly delighted when she suggested Chateau La Tour Vaucros.
We immediately fell in love. We didn't even need to go and visit it in person – we were sold by the pictures and as importantly, from the wonderful service from venue manager Marion. The grounds are beautiful, as is the on-site accommodation, all set against a stunning backdrop of rolling vineyards and forest.
The styling
When it came to the dress, I think I was the most relaxed bride you could imagine! I tried on a few styles in a boutique in Dubai and then set off with some pictures to the textile quarter of the city.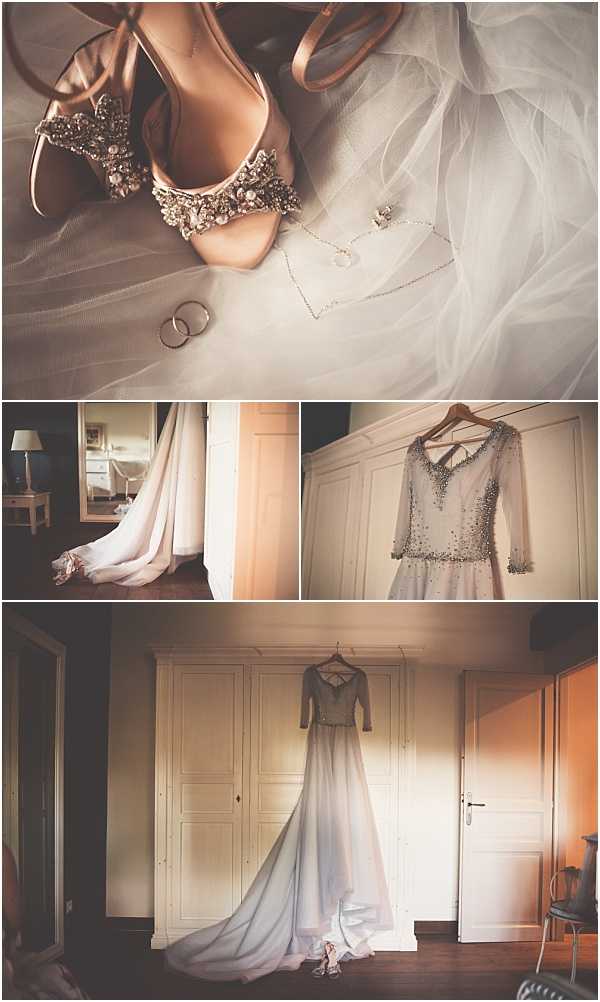 Dar Sara Fashions came recommended to me and I think it took all of five minutes for Fadi, the designer, to look at the pictures and sketch the dress. Job done! Although I am normally a jeans and trainers kind of girl, I wanted to take people by surprise with my dress, since everyone thought I'd go for something very simple.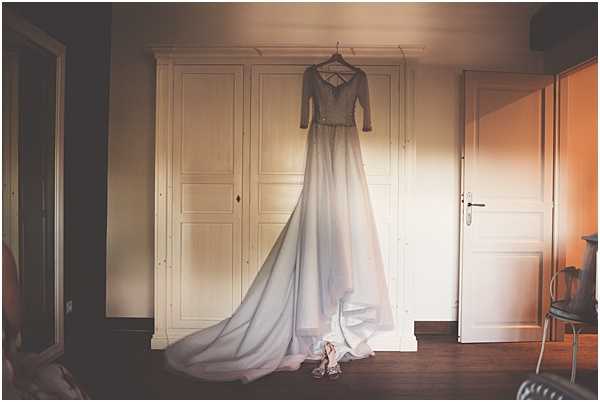 Before even trying anything on or starting the design process, I knew I didn't want to get married in white. We chose a very soft blue/grey pastel shade, with a fitted bodice and full skirt, adorned with dove grey pearls and Swarovski crystals.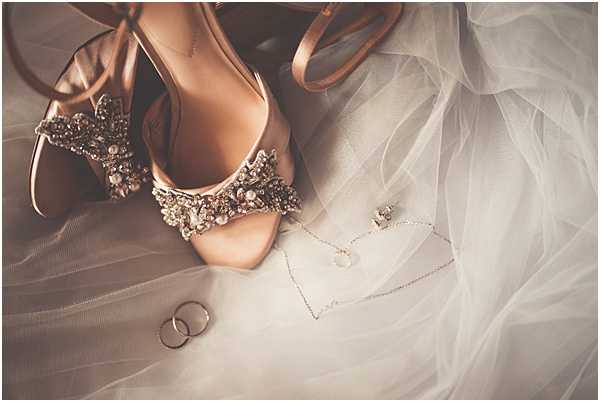 I am a festival goer and love glitter, so this was most certainly an 'upmarket' nod to that! I was very lucky that my hairdresser Helen is also a good friend and so she gave me a chic up-do and we pinned my long veil underneath the bun. Given the dress was quite the statement, my friend Eileen did the perfect job of creating an understated, elegant look with the make-up – soft, smoky eyes, just a smudge of liner and nude lips.
My three adult bridesmaids wore rose pink skater dresses from Chi Chi London, with lace and mesh detail – the colour worked really well with my wedding dress.
Fahad wanted to add an element of fun to his look.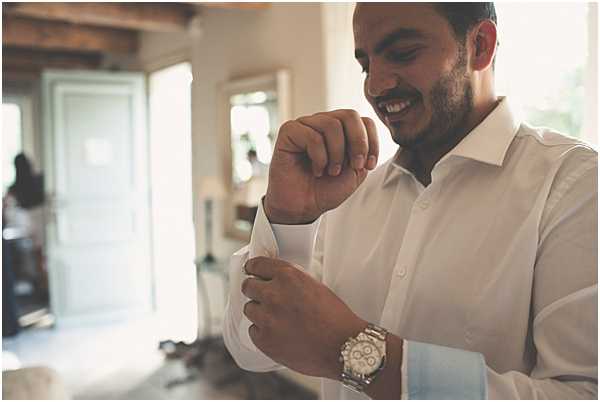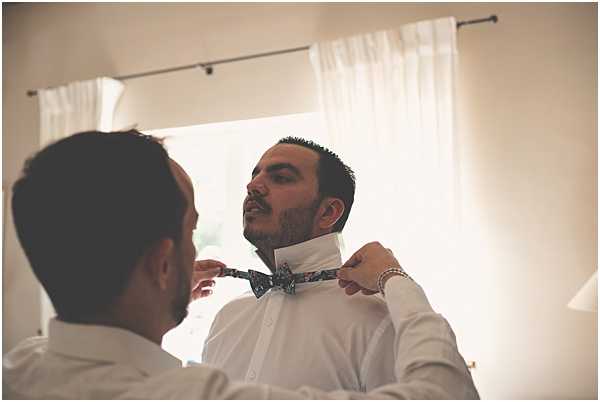 He had a classic navy three piece suit tailored by Kachins Couture in Dubai, brought to life with a bespoke patterned bow tie and pocket square by Edmunds. The three groomsmen all wore suits of their own and we also had matching bow ties made for them, as a keepsake of the day.
The decorations
We are both pretty low key (despite my dress) and so we definitely didn't want anything too over the top. We really felt that the venue's natural beauty spoke for itself. Sadly I lost both grandparents in the lead up to the wedding and we really wanted to make sure they were a big part of our day.
My Nan – named Olive – was the inspiration behind our decorations. Clémentine really helped us bring this inspiration to life, creating a styling plan and mood boards that covered absolutely everything.
We used olive branches where possible throughout the day, which led the classic green and white floral theme put together by Fleurs Design by Faustine.
For the ceremony, a square arch had cascading white hydrangea and lisianthus, paired with olive and eucalyptus branches and we had large, blooming baskets filled with the same at the aisle entrance.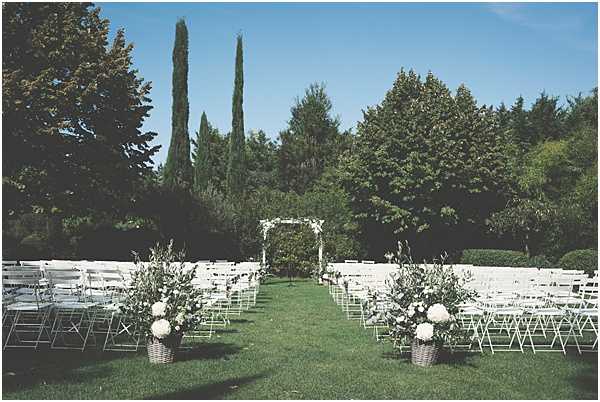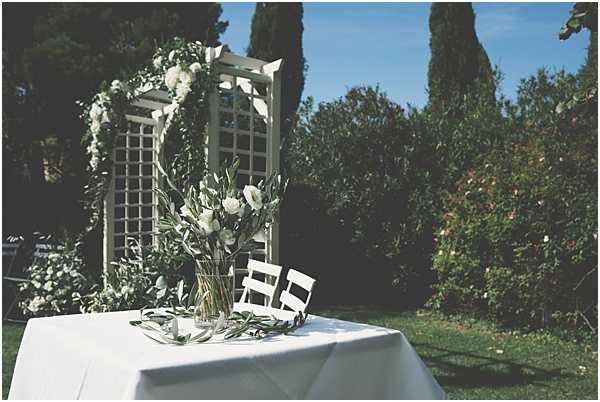 Clémentine artfully tied little sprigs of olive branches and lisianthus on the guests' seats. My bouquet followed this theme, while the bridesmaids' bouquets had accents of pink.
Our outdoors cocktail reception included poser tables with white cotton tablecloths, decorated with the olive and lisianthus posies, as well as white candles.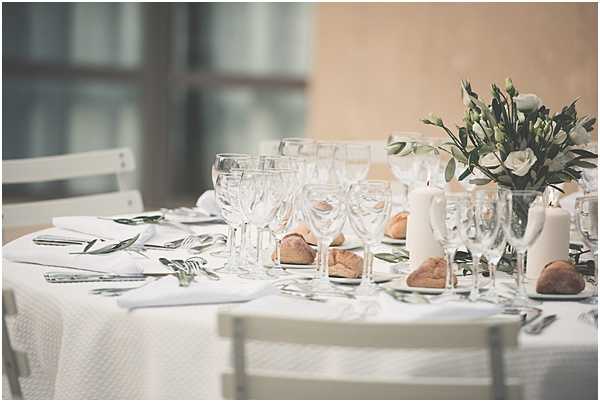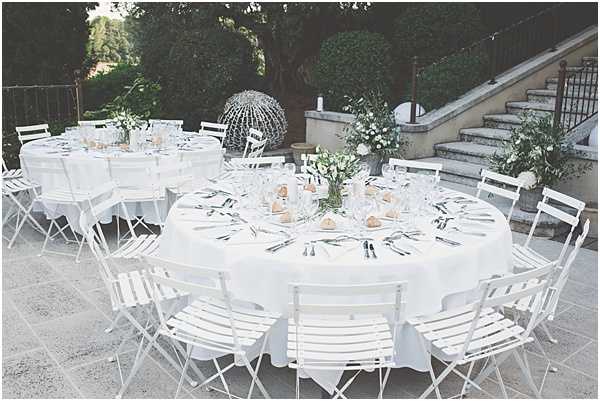 We used the same theme for the dining tables, made even more beautiful with additional olive branches strewn across each table and lots of candles twinkling away as it turned to dusk. The dinner area was spread across an open courtyard and the summer room of the venue, floor to ceiling glass doors open, and it had a truly magical feel with white festoon lights strung along the cast iron rails and stone courtyard wall.
The day
Given we'd had a civil ceremony in London a few days before, we were able to create a really personal ceremony in France, set up on the lawn of the chateau.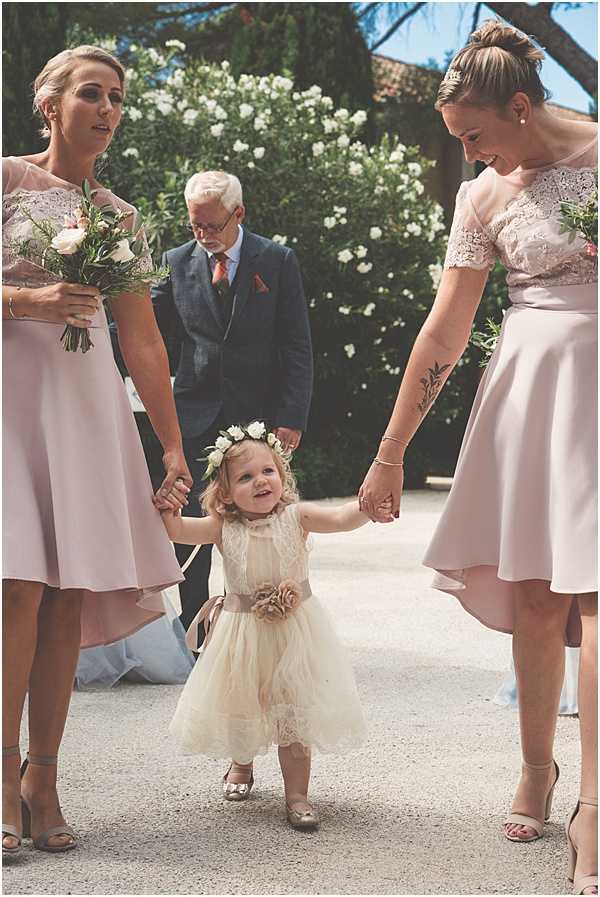 With the help of some templates from Clémentine, I wrote much of the service myself. We were delighted that two of our closest friends, Greg and Bea, agreed to lead the ceremony for us.
We had three different readings by friends and family and then Bea surprised almost all of us with a beautiful rendition of Evergreen, by Barbra Streisand – I was the only one who knew about it and everyone was blown away.
Especially my Aunt, since it was the first dance at her wedding 20 years ago! Fahad and I exchanged personalised vows to one another before it was time for the cocktail reception. But just before that, we got the beautiful confetti shot in while we walked down the long, tree-lined stone driveway at the chateau.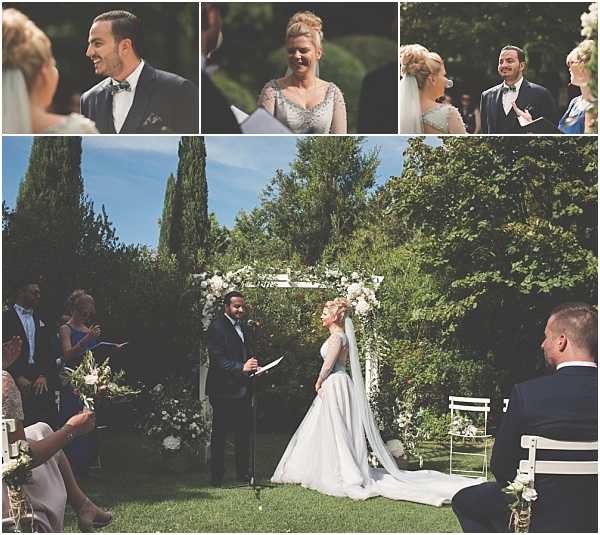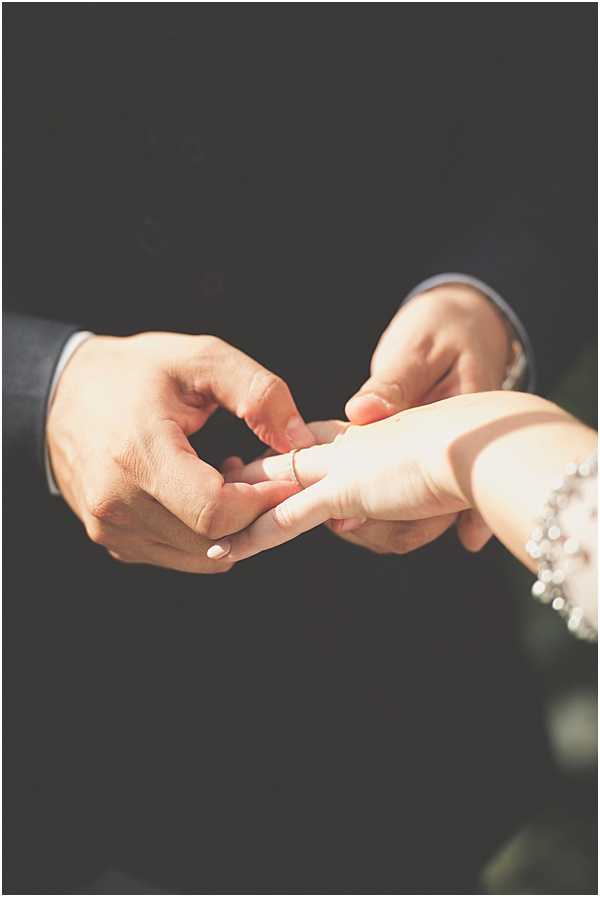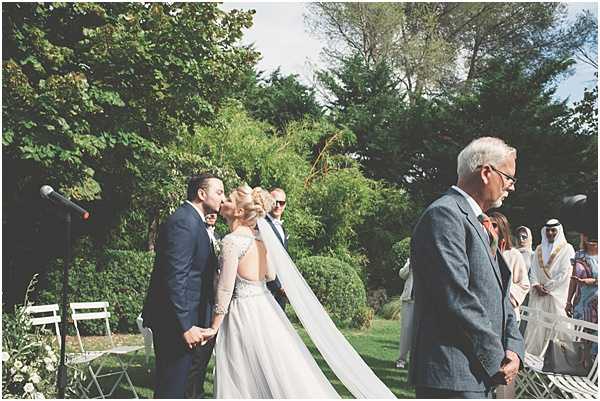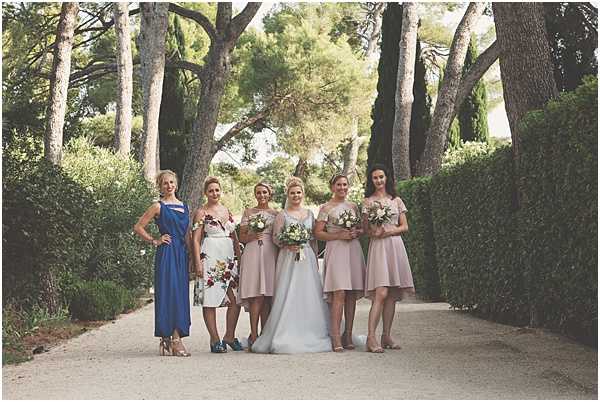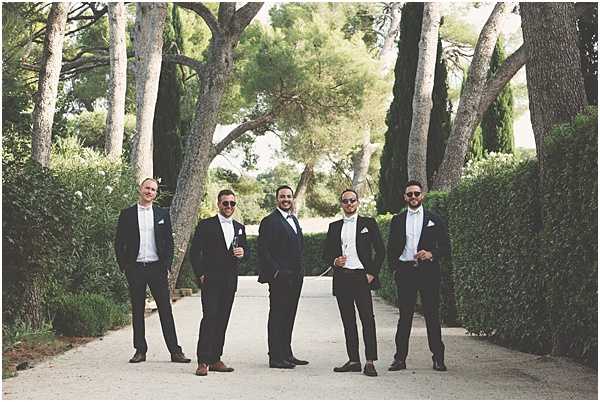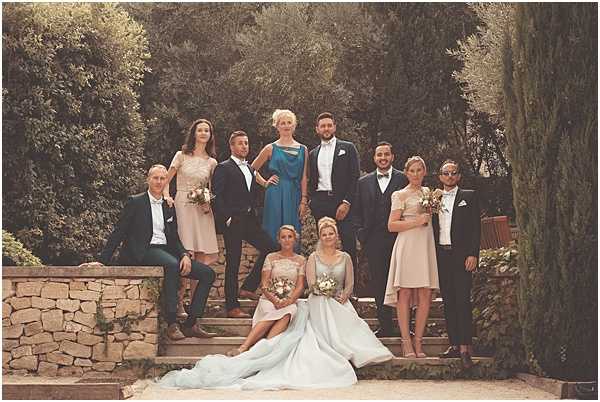 Our wedding was catered by the lovely team at Meffre Traiteur and during the cocktail reception, guests were served local tapenade, a selection of canapes, smoked duck and smoked salmon, as well as beef carpaccio. We were also very lucky to have a Gillardeau truck serving oysters, which really added a wow factor in the late afternoon sun.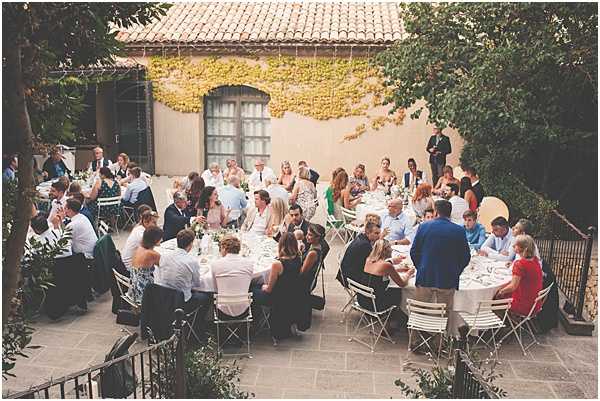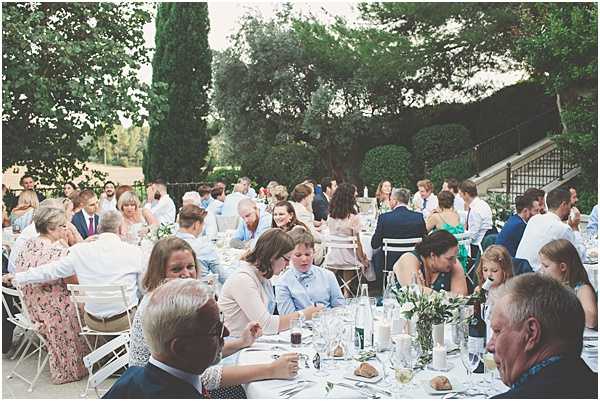 For the dinner, we wanted to combine a mix of live food stations and food served at the table. To start, there was a selection of individual verrines, including shrimp, Andalusian gazpacho and glazed petit pois and mint.
These were accompanied by a parmesan wheel containing fresh ravioli, iberico ham and scallops with truffle and grilled bacon. Grilled rib of beef was served for the main course, followed by a cheese course and then a selection of desserts.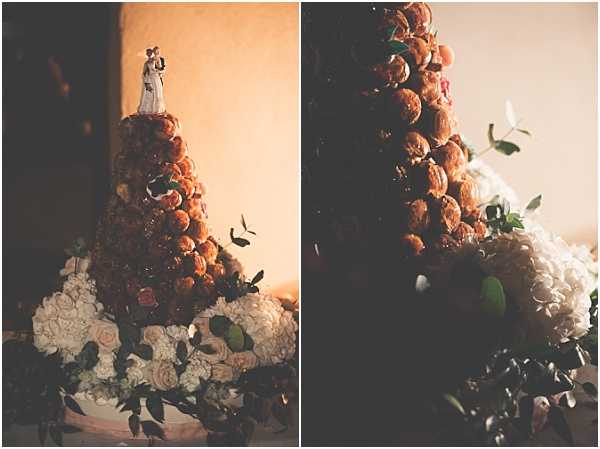 We opted for a traditional French croquembouche as our wedding cake, decorated at the base with more cascading olive branch and lisianthus. Instead of cutting the cake, we fed one another profiteroles – it was messy and fun.
Anecdote
Our photographer Mark (part of Awardweddings) captured some absolutely stunning shots of us next to the vineyards, just as the sun was setting. Neither of us are fans of posing, but Mark's artistry and super friendly nature meant that we were relaxed and happy.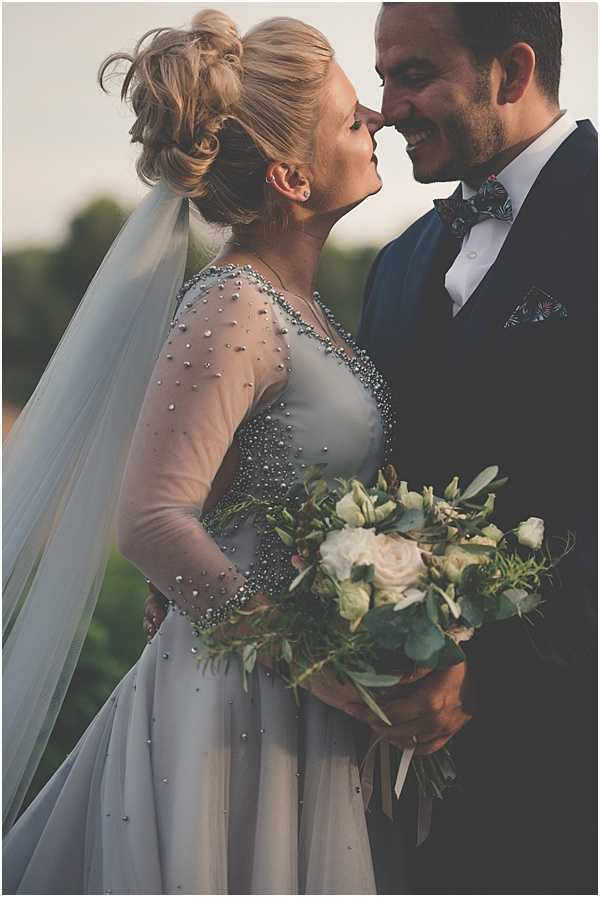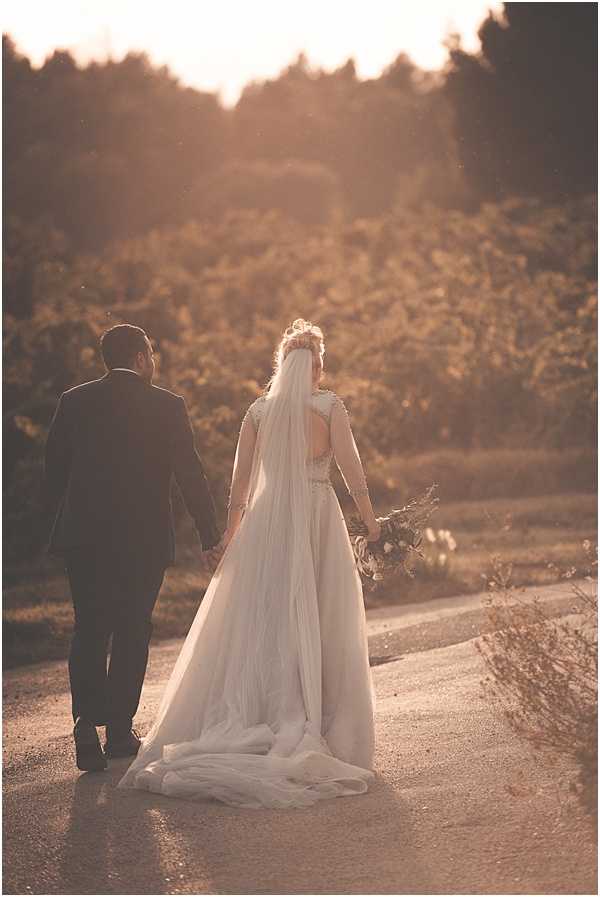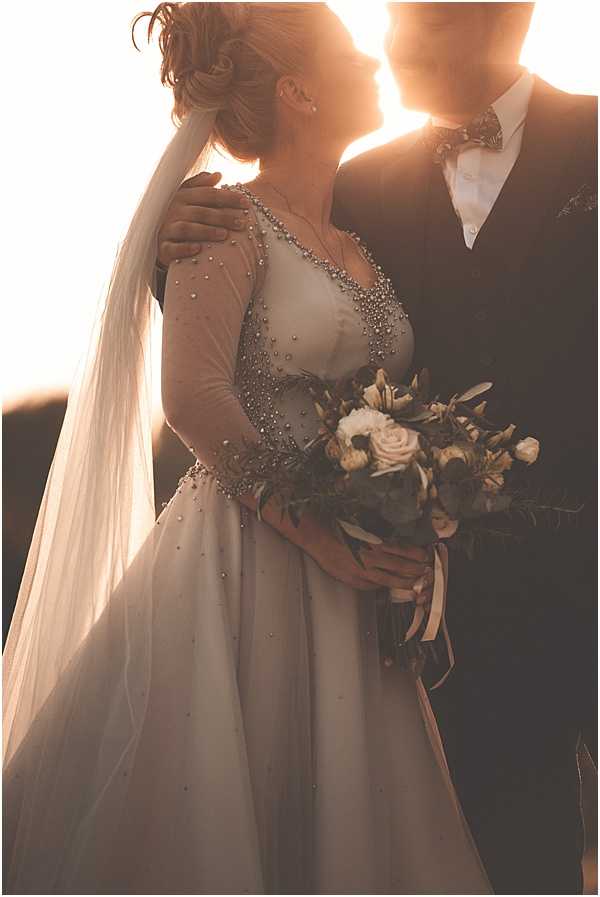 He really got how beautiful the location was and planned all of the photos around it, so our pictures – our keepsakes of the day – are really reflective of this…..
Congratulations to Sarah and Fahad from us all at French Wedding Style xx
Chateau Wedding in Provence Snapshot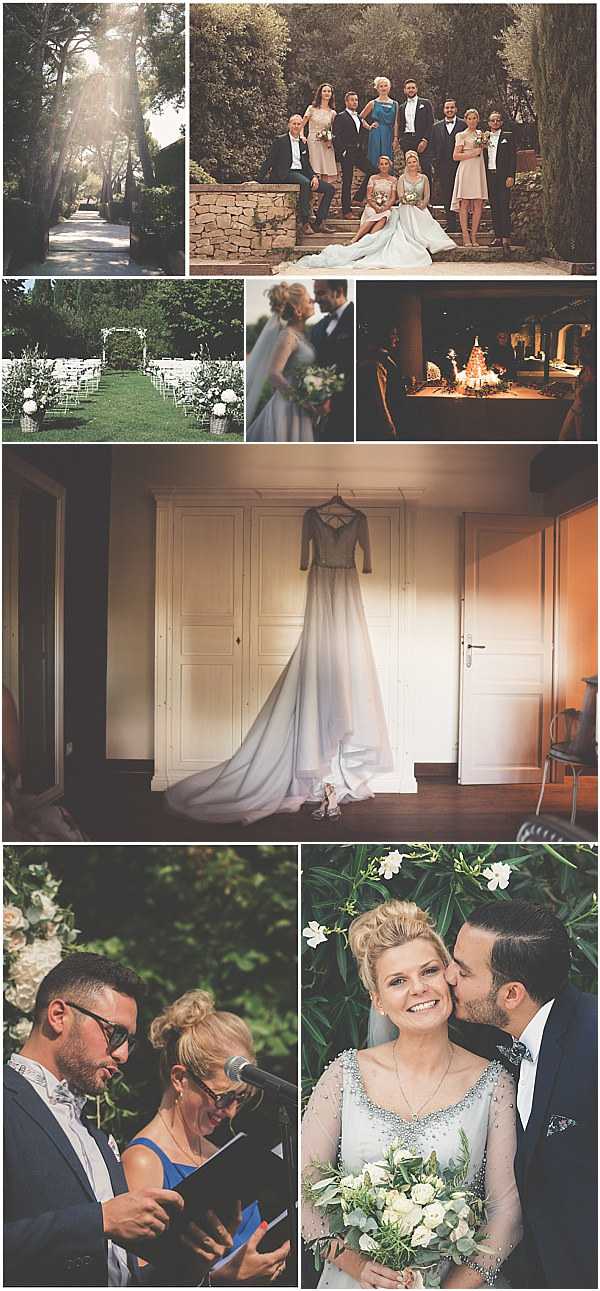 Wedding Vendors
Venue: Chateau La Tour Vaucros | Planner: Clémentine Ward | Photographer: Mark Ward | Wedding dress: Dar Sara Fashiona | Bride's shoes: Aldo shoes | Bride's accessories: bespoke earrings (necklace belonged to Grandmother) | Make-up artist: Eileen Long | Hairdresser: Helen Marsh | Bridesmaids' dress: Chi Chi London | Groom's suit: Kachins Couture | Groom's accessories: Edmunds | Flowers: Fleurs Design by Faustine | Stationery: Le Comptoir du Bonheur | Stylist and decorations rental: Clémentine Ward | Caterer: Meffre Traiteur | Music: Vintage Vinyl Events