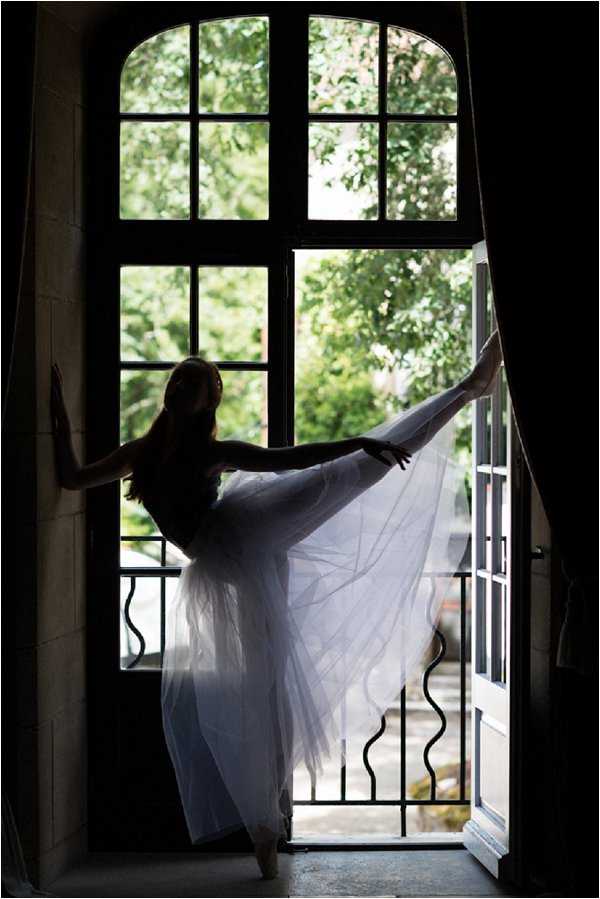 Fairy tale French wedding castles and tulle skirts. What is not to LOVE about today's ballet wedding inspiration in France at Le Vieux Chateau all captured by Widmer Photography.
All ballerinas amazed me by their incredible beauty and grace.
Elena from Widmer photography takes us through the shoot.  "Since my early years I have been fascinated by ballet dance performance and all the atmosphere around this beautiful and outstanding art. All ballerinas amazed me by their incredible beauty and grace. Just by looking at them, one can believe that a wonderful fairy were on their magic duty visiting this world. But wait till they start their perfect airy angel's dance telling the stories of love, sadness, misery and happiness with the perfect, ideal movements of the perfect and ideal bodies! One can be sited mesmerized by sounds of music sharpened and marked by dance.
My other obvious passion that was not different from other girls was the love of all the princess-related themes, things and objects. Castles, royal balls, carriages, glitter and perfection of the royal life. Of course, every girl (even when she is a bit over 30+) would be tempted to visit a castle.
The very air was filled with chic and magnifique!
This year I opened France from the new side. I was exploring, visiting new and new places, absorbing history, smells, and beauty of this country. I had a feeling that the more I see the bigger is the hunger for new French discoveries. The very air was filled with chic and magnifique!
The moment I saw Le Vieux Chateau, I fell in love immediately. And from the first sight my head was spinning with bazillions of ideas for the possible shooting there. At first, I was not sure when or what I will capture there but I was sure in one thing. We will definitely meet again.
It's own majestic aura
It was an absolutely perfect place to combine all my dreams of beauty in one shooting. This medieval castle has its own majestic aura­ from inside there were dark cold and distant rooms, dim chandeliers, silent knights, an old and massive furniture that could tell stories. And at the same time, warm, welcoming, full of sunlight   green parks that give you a feeling of freedom and happiness from outside.
Behind all their beauty and uniqueness
While working at this project, first of all, I tried to depict the beauty, the fragility, the grace and the strength of the typical ballerina. These slim, airy, absolutely gorgeous girls are a perfect example of the strong will, determination and everyday work of self –perfection. Their perfect façade standing out of this massive and rough in places background made a perfect combination. They are too, warm, beautiful, funny and interesting from the outside. Ballerinas like this old castle, behind all their beauty and uniqueness, have a huge history of pains and sufferings. They both captivate and charm.
You are welcome to "walk" with me along the walls of Le Vieux Chateau, to listen to the stories they tell, to enjoy the beauty and the grace of this girl. Hope you enjoy these pictures, and maybe some of them will "tell" you a very special story."
Ballet Wedding Inspiration in France Snapshot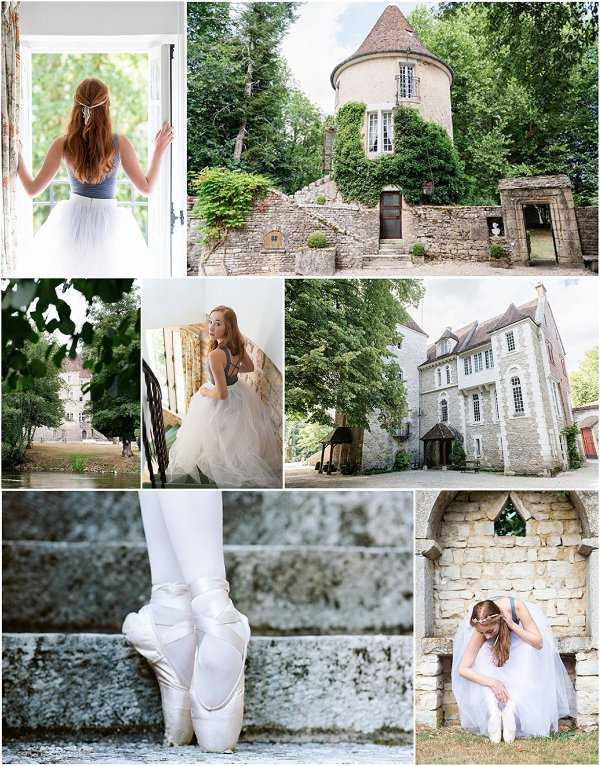 Wedding Vendors:
Photography – Elena Widmer  | Venue:  Le Vieux Chateau, Voutenay-sur-Cure | Model – Michelle Dolder | Makeup and Hair:  Michelle Dolder | Grey leotard – Repetto | Tutu – custom made | Pointe shoes – Grishko | Hair band – Claire's