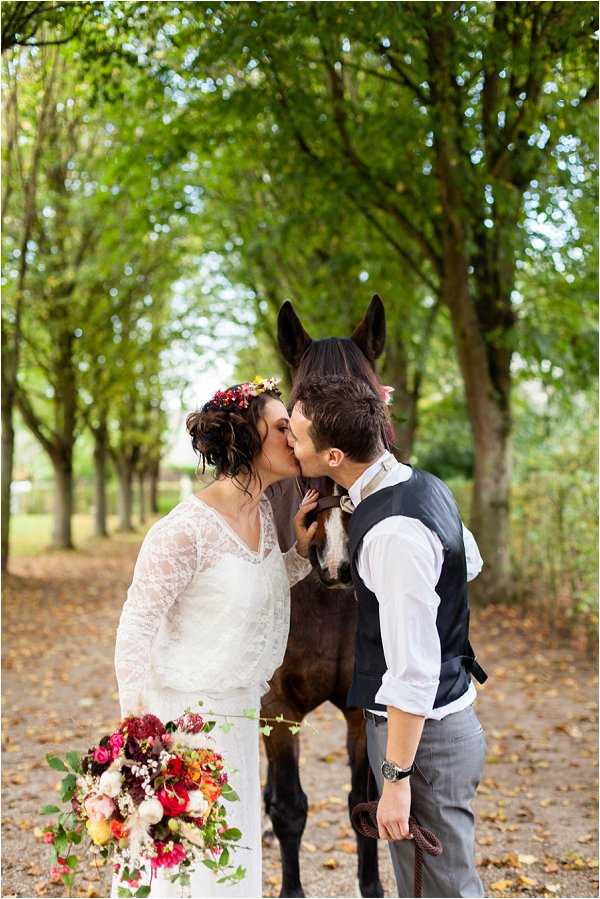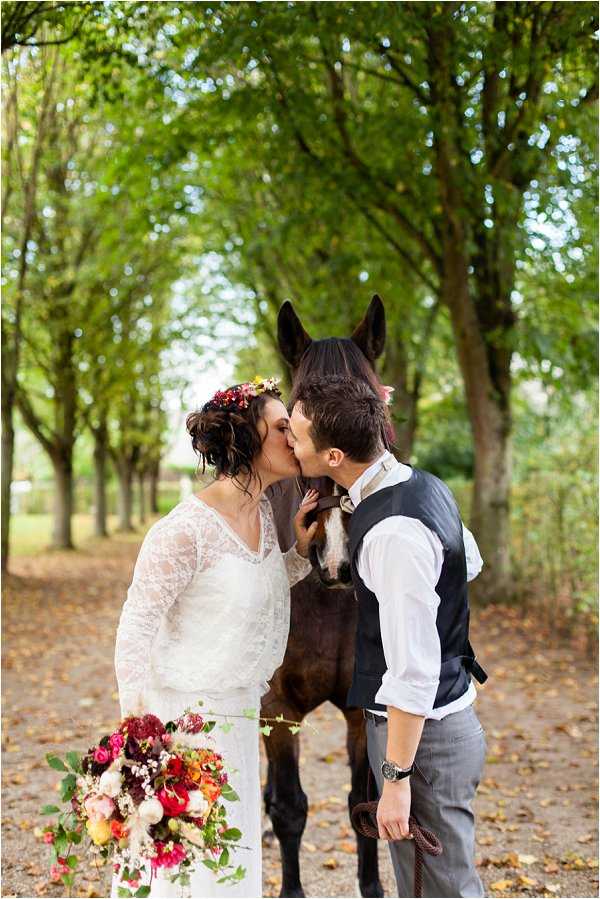 These days when it is cold and grey, I am left wondering if I like the colder months; but then a beautiful autumn wedding inspiration shoot lands into my inbox and I am reminded at the beauty of the season.
Set at Le prieuré Saint-Michel  in Normandy, today's shoot was created by French Wedding Belles in order to celebrate the warmth of the autumnal colour palette, combined with rich colours to create an enchanting inspirational shoot.
Morgane from French Wedding Belles says: "Le prieuré Saint Michel was the perfect venue for us; lost in Normandy's countryside, surrounded by cows, trees, horses; this place felt timeless. A 15 metre towering Fourteenth Century barn would provide the haphazard feel to the indoor pictures I was looking for.
The models, Anne-Lise and Arnaud, are a real-world couple and dear friends of mine so I knew their love for each other would show itself on camera. They might not be married yet but since the shooting, they are thinking about it! 
After first scouting the venue, it became evident that we needed a strong statement for this shoot, and I saw an opportunity to incorporate my love of horses. We were extremely lucky and grateful to have a host accommodating enough to even allow him inside the barn.
Pedro, our star, was gentle, patient and relaxed for the duration – a very professional model who was a joy to work with. He did try to eat the bride's wardrobe on occasion but apart form that was no trouble at all. Pedro brought wilderness into the shoot and accentuated the bohemian style of Anne-Lise' dress, the lace, the nature of the place.
The colour palette was obviously rich yellows, reds, iron, rust. We wanted our decor to complement the atmosphere of this old venue and its context. I visited a number of brocantes (french flea markets) to find various smaller details fairly inexpensively. Frequenting such places and walking their densely packed aisles of odd findings can be a good exercise from which to draw inspiration for any wedding. "
Wedding Vendors:
Wedding Photographer: Regard Photographique | Wedding Planner/Designer : French Wedding Belles   | Wedding Venue : Le prieuré Saint-Michel   | Wedding Dress : Elsa Gary  | Florist: Tea Garden Sallen  | Hair and Makeup Artist: L'Atelier d'Alyson  | Bride Jewellery:  Fil d'Epice  | Stationery & Invitations: French Wedding Belles | Bride & Groom: Anne-lise & Arnaud  | Horse: Pedro