From chic Parisian adventures to rural retreats, France can provide a myriad of activities and backdrops for your stag do.
Kayaking on Lake Annecy, the cleanest lake in Europe, can be one of the backdrops to your stag do in France. With the medieval old town of Annecy at one end, the 24km long lake is lined by verdant mountains, dotted with traditional villages and nature reserves, making Lake Annecy an impressive place to explore by kayak.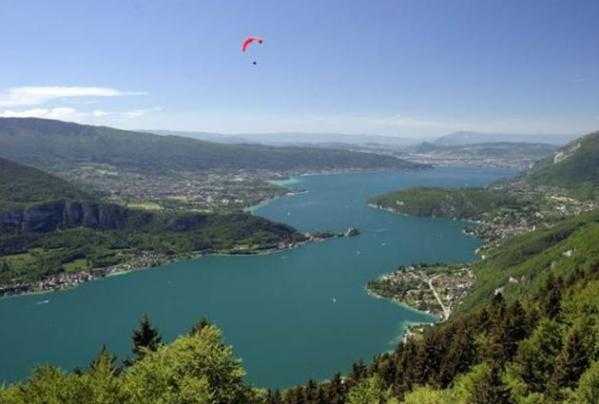 Whether you paddle across the middle of Lake Annecy or stay near the shore, the inviting turquoise waters, warm sunshine and stunning mountain surrounds might well distract you from the business of kayaking! Up above you will see many colourful paragliders gliding like birds above the Annecy lake.
On your kayaking or canoeing trip, you can stop off at the Roc d'Chere and wander up the cliffs for some great, safe places to jump off the cliffs back into Lake Annecy. If that's not your thing, enjoy the sunshine in the kayak, have a swim, or take some spectacular photos. Alpine Thrills provide kayaking trips on Lake Annecy as well as many other activities in the French Alps.
For those who are looking to including a little air into their aquatic stag do, wake boarding could be the answer.
Blondeair can organise your stag do in Biscarrosse lies less than an hour south west of Bordeaux, just under two hours North of Biarritz.  Two large freshwater lakes ten minutes inland of the coast gives this area a great range of watersports whatever the weather; flat and you can wakeboard, windy kitesurfing and in the unlikely event that its neither there is always the Atlantic surf.
The lakes lie surrounded by the pine forests of the region North and South of the town of Biscarrosse, made up of 'ville', 'plage' and 'lac'. Continue further North and you will follow many secluded surf and kitesurf beaches up towards Arcachon and the famous Dune D'Pyla, Europes largest sand dunes.
The climate in the South of France can also provide the perfect backdrop for a sportsfishing stag do adventure.
You can charter this luxury from Aqua Cruise, sportsfishing motor yacht on the French Riviera for a fishing charter trip. Flying in to France, you can rendezvous with the yacht from the local marina – less than 2 minutes from the international airport! From here you are in cruising range of Corsica, Sardinia, and Sicily; for some of the best Mediterranean fishing.
Accommodation is of the highest standards – VIP stateroom with twin en-suite, plus 2 twin cabins both with en-suite. Every cabin has separate air conditioning, HiFi, and telephone. The spacious saloon is well appointed and features a large, well stocked bar, and leather upholstery throughout.
The sports fishing includes the services of the expert skipper, and hostess, who is a professional chef. Recreational equipment onboard includes diving and windsurfing equipment – the skipper is a dive master and qualified to instruct.
If you are researching for stag or hen do ideas in France, don't forget to let us know and we would be happy to help.