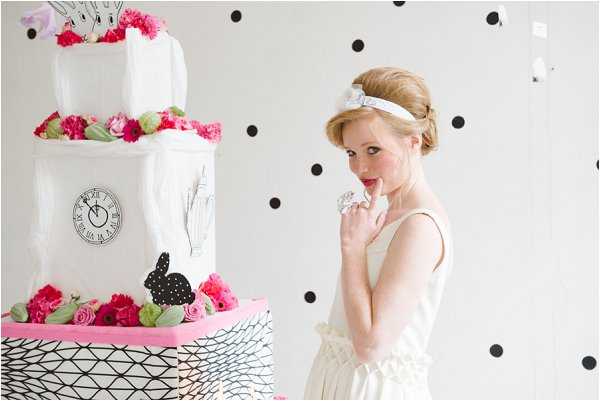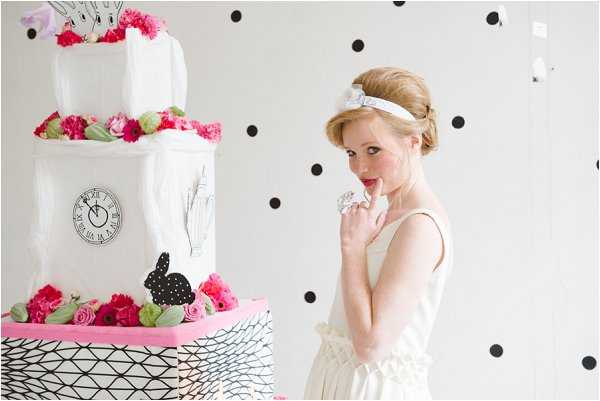 Such a whimsical treat on the blog today, an Alice in Wonderland Wedding Inspiration Shoot set at Château de Santeny near Paris.  The shoot is the second part in the fairytale series by planner Noobah and designer Marie-Aline Perrard, combining the whimsical wedding wonderland in a urban and fashion styled shoot.
The first part of the shoot was a fairytale woodland wedding inspiration based on Cinderella that you can see here.
Edina of Noobah takes us through the shoot: "At the heart of the Castel of Santeny, the team targeted to revitalize an emblematic fairytale : Alice in Wonderland.
To modernize those two fairytales we re-named each bride- Alice was transformed as Emma. Each one fought for an unique groom.
Emma is the funny one. Nothing is too much and original to get fun of. She is a real impertinent child-like woman. She likes crazy dotes and absurd decor but in a very chic and elegant way. A giant wedding cake with hanging tea bags are exactly what she is looking for.
To end up this shooting we confronted our brides in a final battle. Each one was escorted by animals. At the end no ones won as their style was different and unique."

Wedding Suppliers:
Photographer : Déclic & des Flashs |Event Planner : Noobah | Design : Marie-Aline Perrard | Floral design : ABACARD | Venue : Château de Santeny |  Video : Clapstudio | Make up and hair : Keya Beauty | Brides' dress : Mathilde Marie | Suits and accessories : Loizeaud Maison Couture | Shirt : Le Chemiseur | Shoes : Dessine-moi un soulier | Models : Lauriane Roulland  , Alyzée Costes , KewinTo