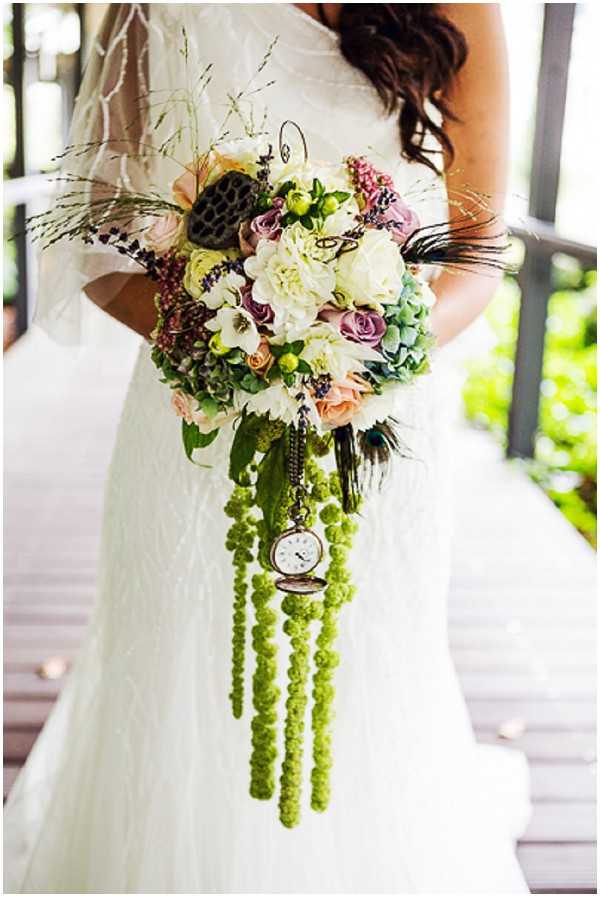 I have a fabulous real wedding for you today, just a little vintage with a touch of madness for a magical Alice in Wonderland themed wedding at L'Orangerie in Luxembourg.  As the Editor of French Wedding Style I am privaledged to edit many real weddings, but I have to say that this bridal bouquet with the incorporation of the Alice in Wonderland theme is one of my favourite bouquets that I have featured on the blog!

The lovely bride takes us through their wedding planning:"When it comes to theme, it ss essential to have one as it allows one to have a direction on decoration. It is in the detail that a successful wedding is recognized, and this is particularly true with regard to the decoration. We wanted to organize a wedding that looked like us, and put as much of our personalities.
French Wedding Style – Photography © Christophe Mortier Photographe
Our wedding was to be inspired by Disney – Pixar's "UP". My future husband and I were moved by watching this cartoon. "UP" us into an atmosphere full of love, emotions and adventure. This is the story of life be that little every day. This film shows us that we must go through with his desires without ever giving up. We wanted to keep our childhood souls in the planning of our day.
But attention to detail and a worry about decoration  being too childish and kitsch, we had to abandon this project. However we wanted to keep a theme with reference to the cartoons that have rocked our childhood; so we then looked at Alice in Wonderland. This idea we gave a vintage feel with a touch of madness, the concept of dream, blurring between reality and unreality, and between rational and magical.
We chose the gardens L'Orangerie to fit in with our theme, the park is huge and there are statues, rose gardens and a maze of hedges.
In order to realise our wedding theme we visited wedding shows to meet vendors.  We were looking for the most professional and creative suppliers, who really wanted to create a magical world, a day in a dream world.  We wanted attention to detail as the slightest detail should match the theme and we wanted to work together on our wedding project.
I chose a dress as simple as possible from Pronovias, as to me the simpler is more classic.  In addition, I did not want to waste time looking for a dress for me this was not the most important part of our wedding.
For keeping my husband, I had a specific idea in mind. I wanted him dressed in an outfit from the beginning of the century, with a coat and a top hat. A small wink to the Mad Hatter style.
For our guests we asked women had to wear hats and men pocket watches.
During the religious ceremony we had a gospel group singing, their presence brought a lively atmosphere in the church. Entertainment and music were key throughout our day and we had a five piece professional musicians to keep the evening reception lively.
Other highlights of the day included a slideshow by our friend, which a complete suprise, a magician going between each table and the finally of a Michael Jackson show.
My advice for other couples is to take your time, hunt for bargains, do not hesitate to visit the wedding fairs because there are tips and good ideas that you would not have thought.
Also do not hesitate to take advantage of competition in this time of crisis. Because, today, wedding has become a business."
Thank you to Christophe Mortier for submitting this fabulous and creative real wedding!  What are your favourite parts of the styling and decorationg?


Wedding Suppliers:
Venue: L'Orangerie, Luxembourg
Wedding Cake:  Crazy Cake
Decorations:Claire déco fleurs
Band: Orchestre CHIC PLANET
Videography:  Mr Daniel LOUIS
4, Clos du bas Château
54270 Essey les Nancy
Church Choir: Symphony Gospel
Mme Mary Cole, 37, rue Fagot, 71150 RULLY
Michael Jackson entertainer: MJLIL
Magician:   Phil illusions
Wedding Dress: Pronovias
Grooms Outfit: Carlo Pignatelli
Hair and Make up: Eric et Laurent
Decoration: ISAMBOURG
Dragées: L attrape rêve
Bridal jewellery: Pandora STORE
23, Rue du Dôme, 67000 Strasbourg