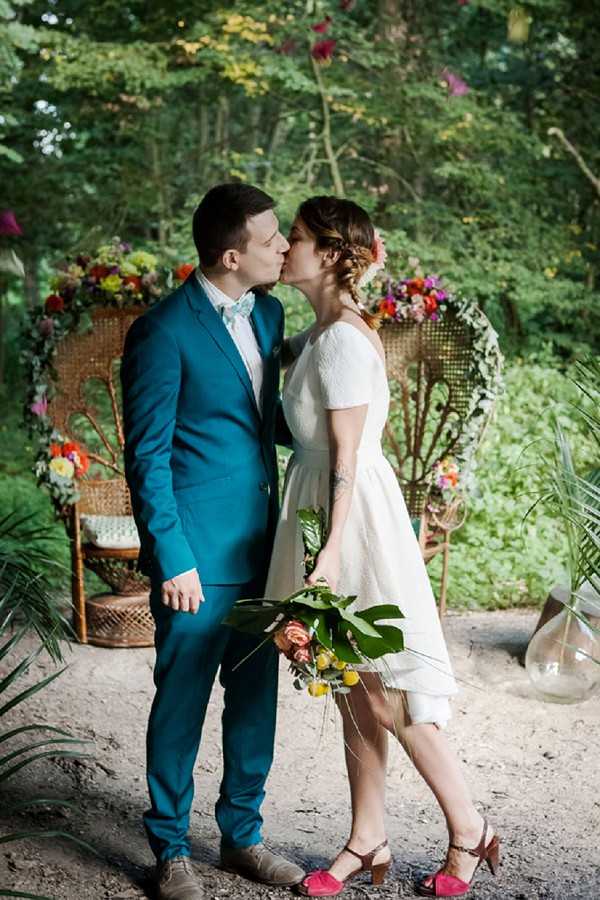 Good morning French Wedding Style readers, we hope you're having a great start to October! To kick off this chilly Autumn month we have a tropical jungle inspired wedding shoot to warm you up.
We love the bright cheery details found throughout this styled shoot coupled with a short bridal gown by Under The Apple Tree it's the perfect unique wedding inspiration. The shoot shows us how we can bring tropical aspects into our day in the form of vibrant hues, tropical and unusual flowers and even setting the tone before your guests arrive with a beautiful invite suite like the one created by Deux Fois Oui which will have them all excited for the up and coming celebrations. On your invite why not add a vibrant dress code so not only will your decor be bright so will your guests, adding perfectly to your images!
If you're looking to make an impact then a tropical jungle inspired wedding might be just the way to go…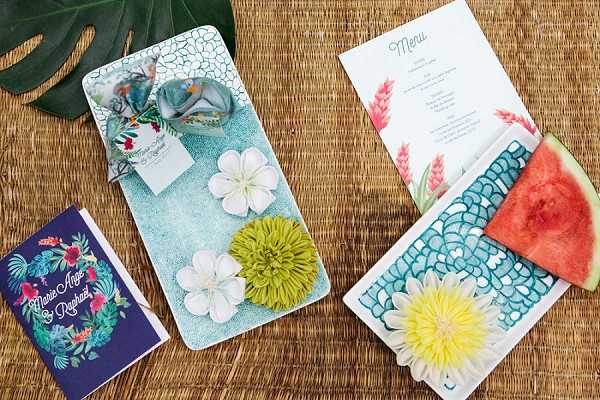 "It is sometimes said that encounters are not the result of chance, it is very likely that this is the case for Florie and Marie. They met during a wedding workshop last winter and quickly realised that they had common wants and needs and especially that they were always on the same wavelength in their ideas and way of working! They therefore decided to collaborate in order to develop their activities and especially to create new ones together."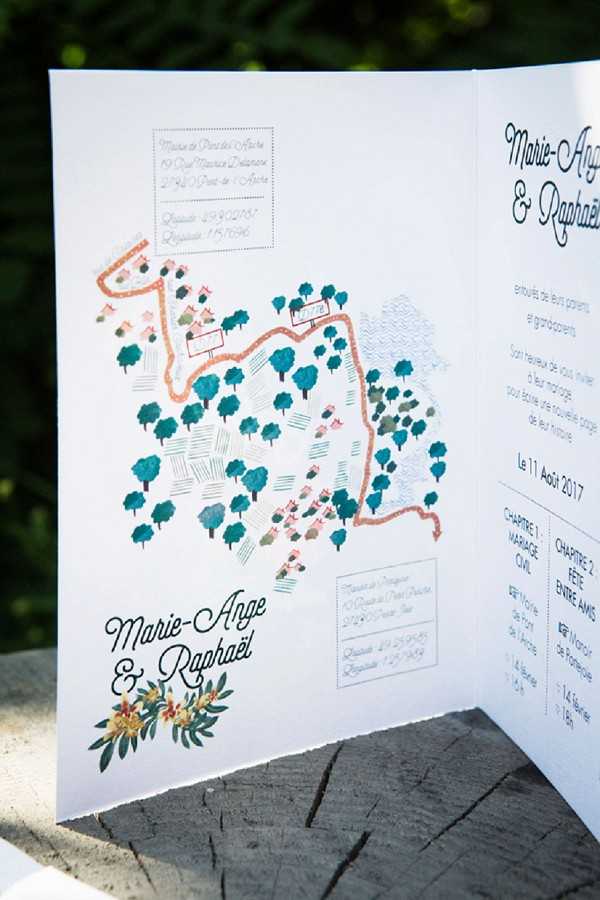 "It is only natural that they decided to organize their first inspirational shoot together to promote both their work and that of talented providers they appreciated."
"For this shooting they made their wish list together, they wanted at all costs: Color, creative and artistic touches, highlighting creators and their know-how, photographing a real couple and to tell a story that is close to reality. They decided a jungle ambiance, inspired by Douanier Rousseau, because it corresponded well to this desire for colors and joy."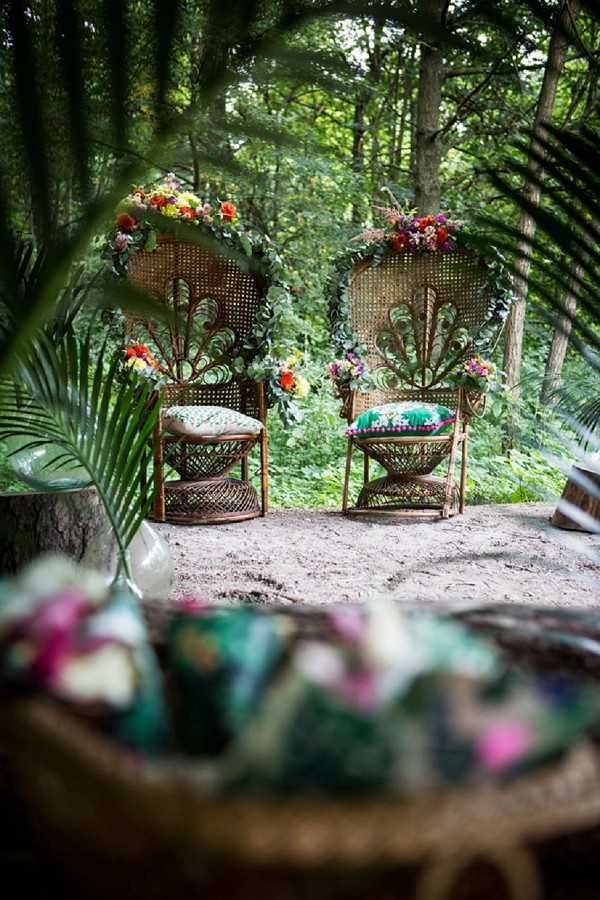 "For this beautiful adventure they have managed to bring together a gold, human and talented team."
"What I love about Marie's work is that she's focused on putting value on the couples, she's very much in favour of human contact. When I look at her pictures, I forget the technique and the effects, I see only the joy of colour and beautiful encounters. " – Florie
"I like the simplicity of our exchanges and the entrepreneurial side and the positive attitude of Florie! In addition to her stationery, which I find very original, colorful and personal, I liked working with Florie, it seemed simple and obvious, it's like we have been doing this for years!" – Marie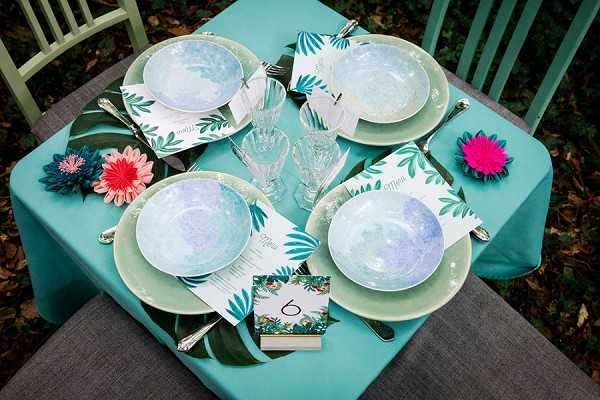 "From then on we realised that we enjoyed working so much together that it would be interesting to develop a common service by reworking the pictures with illustration and to create a partnership to propose to our bride and groom, original illustrated portraits in addition to the usual benefits. A new visual and unique concept to thank their guests, add to their album or hang on their wall."
For even ore vibrant wedding inspiration check out this vibrant bohemian engagement shoot.
A Tropical Jungle Inspired Wedding Styled Shoot Snapshot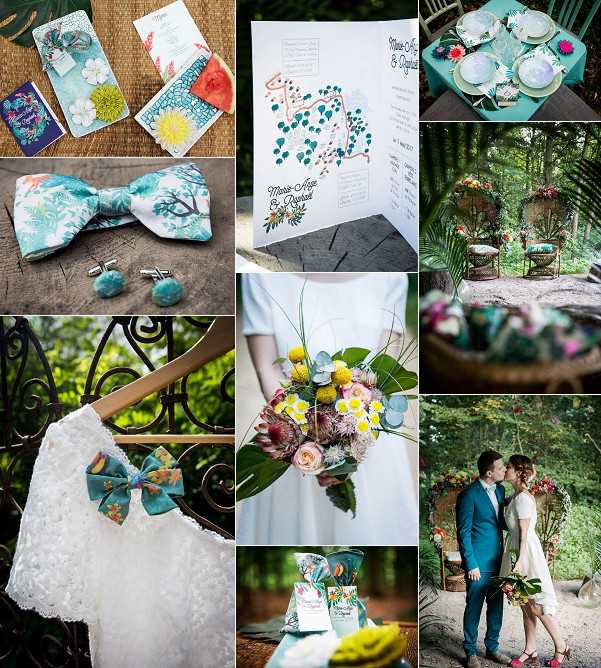 Wedding Vendors
Photographer: Mariecarlota Photographie | Stationery: Deux Fois Oui | Wedding Dress: Under The Apple Tree | Hair and Make Up: Candice Gallet Make Up | Grooms Outfit: L'apiéceur sur Mesure |  Accessories: J&T – Bow Ties With Attitude | Florist: O'Fleurs de Magenta | Decoration: Le Motif Bleu | Decoration: Big Day Bazaar | Accessories: Karuna Balloo – Horticultrice Textile