Who doesn't love cake?!  There are so many options of wedding cake available, from your traditional iced and decorated cakes to naked rustic wedding cakes.  With so many options available, today Beth from award winning Cakes by Beth is going to talk through her predictions for 2015 Wedding Cake Trends.
Metallic Wedding Cakes
Every year, wedding cakes with a touch of metal are bang on trend in some way, helping to create a style that's anything from turn of the 20th Century to ultra modern. In 2015, metal is back and in a big way. It will be all about metallics being the centre of attention, standing out against a white or black background for dramatic, shimmering impact. Silver has always been a popular colour and will continue to be loved, but 2015 is definitely the year of gold!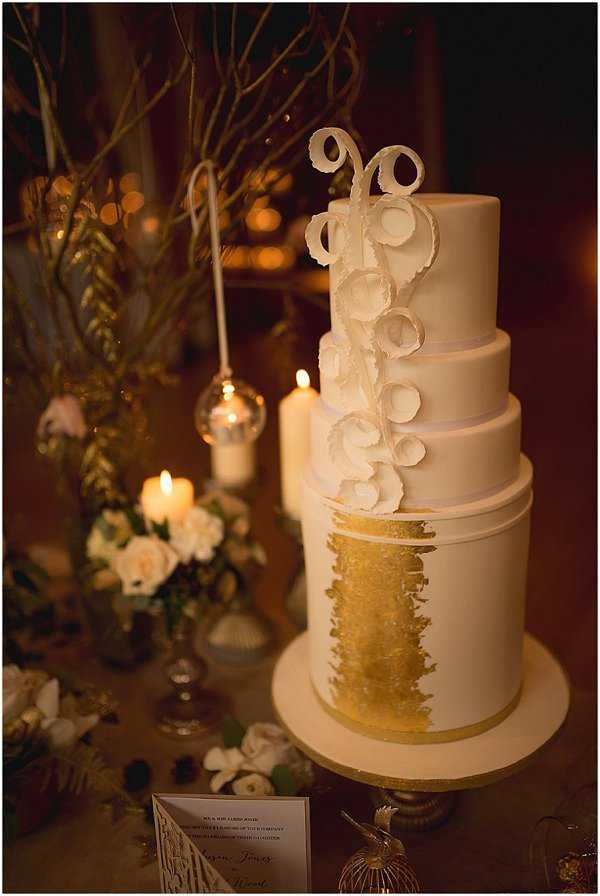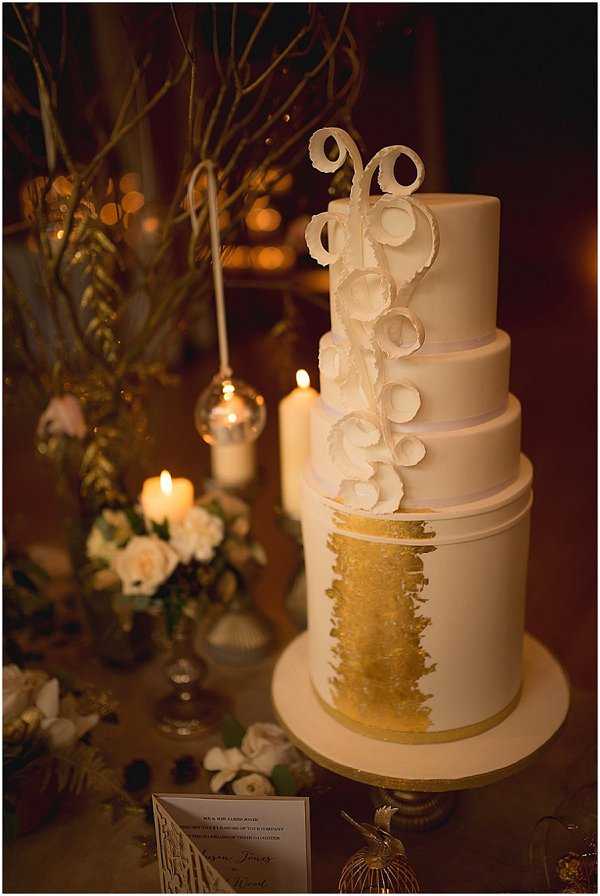 Created by Cakes by Beth, Image by Neil Redfern Photography
Created by Cakes by Beth
Chalkboard Wedding Cakes
Black wedding cakes used to be the reserve of only the most daring of couples but with thanks to designers such as Vera Wang, incorporating black into key elements of your wedding is becoming more popular, and a really beautiful alternative to white. Chalkboard wedding cakes combine black with a touch of vintage to give a soft, rustic edge that can be decorated in all sorts of different hand-painted designs. Here, I have selected two contrasting chalkboard cakes; an all-over chalkboard effect for drama, and a chalkboard monogram surrounded by delicate sugar blossoms for a more subtle look.
Created by Artisan Cake Company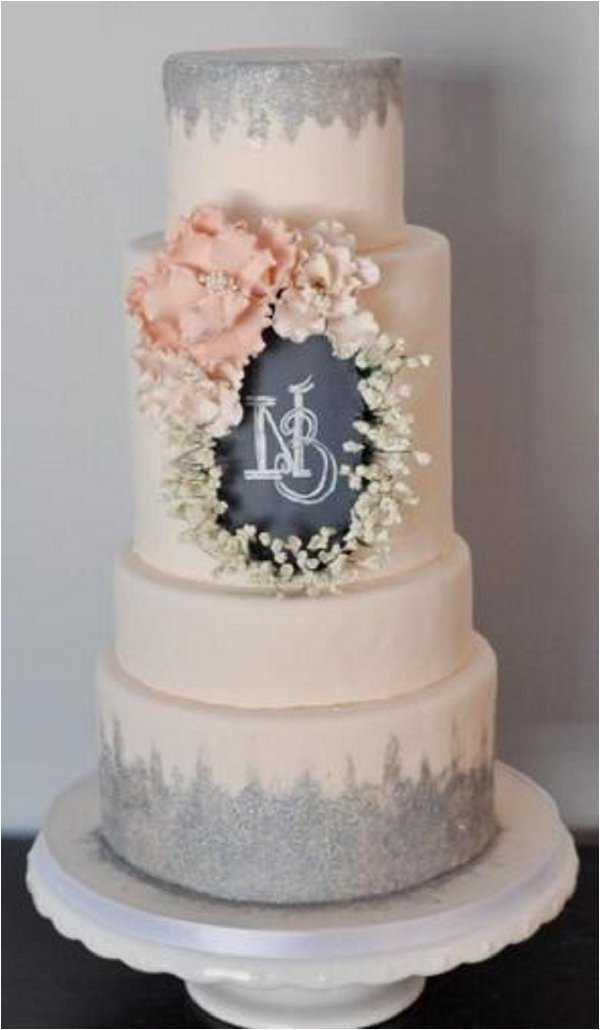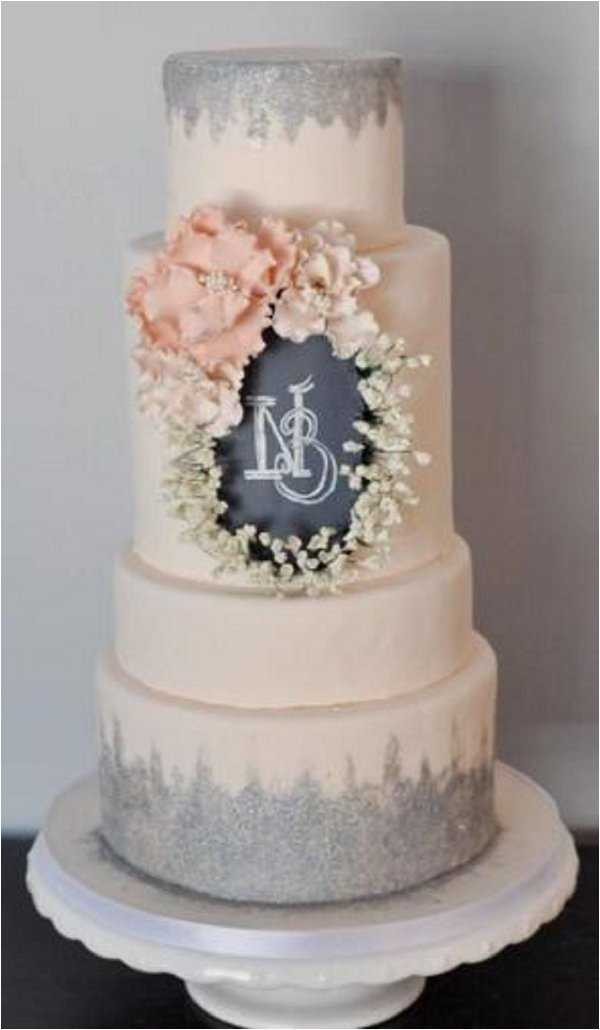 Created by Sophie Bifield Cake Company
Rice Paper Wedding Cake Decorations
Couples may not generally think about what their cake decorations are made out of, but they will certainly notice the difference between icing and rice paper decorations. I absolutely love working with various different types of icing and you can create some amazing effects, but this coming year is all about the translucent lighter than air flowers, feathers and sharp yet pretty fronds that you can only get from rice paper. It can be painted, printed, airbrushed, ripped and ruffled, and I just love it.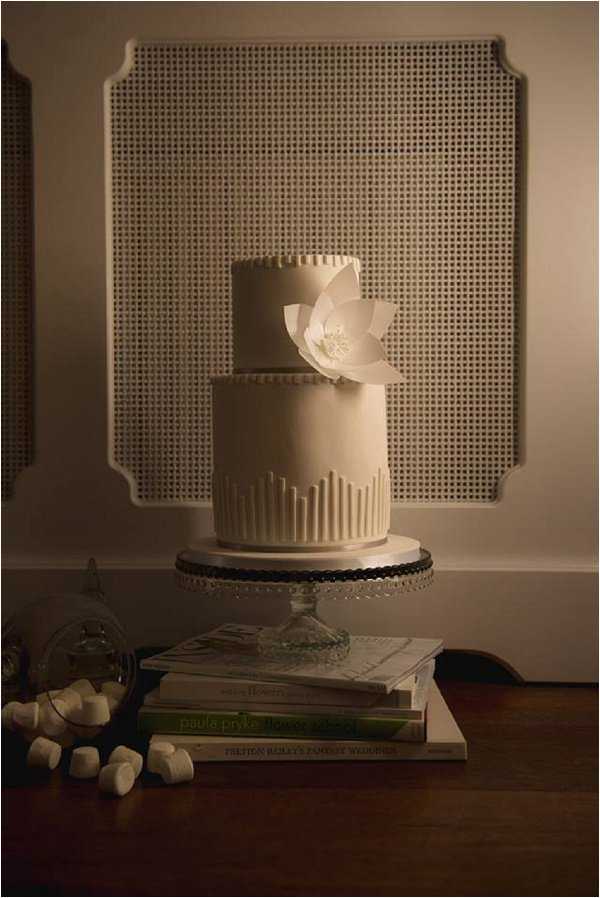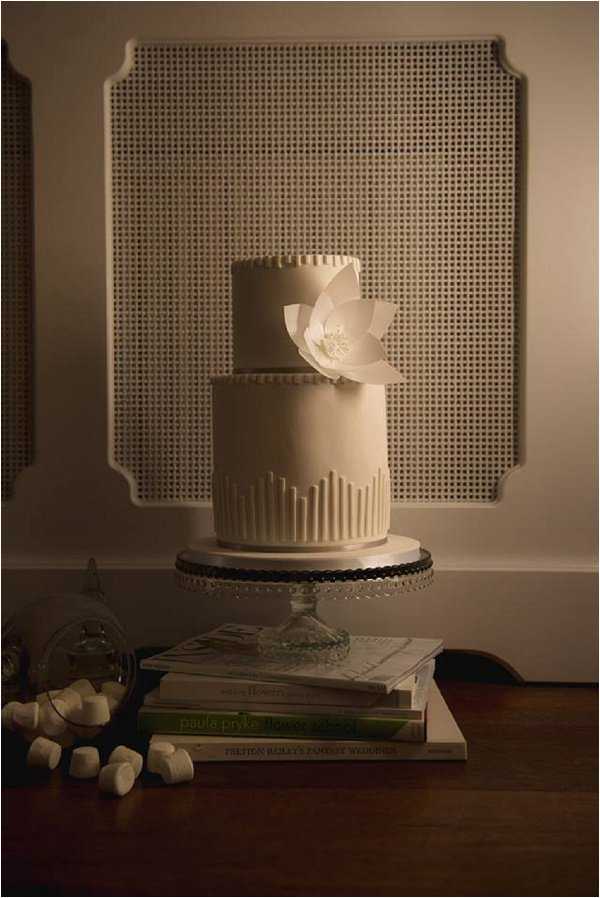 Created by Cakes by Beth, Image by Neil Redfern Photography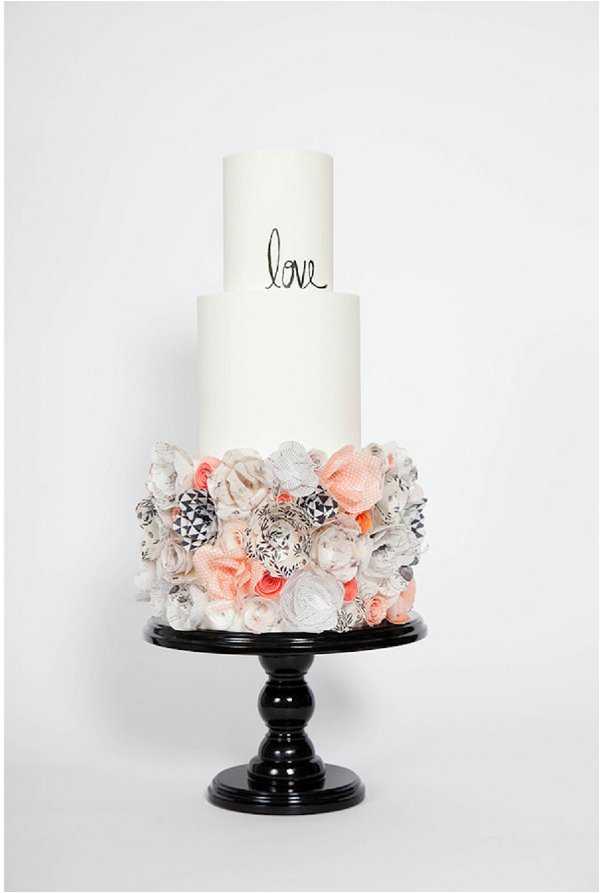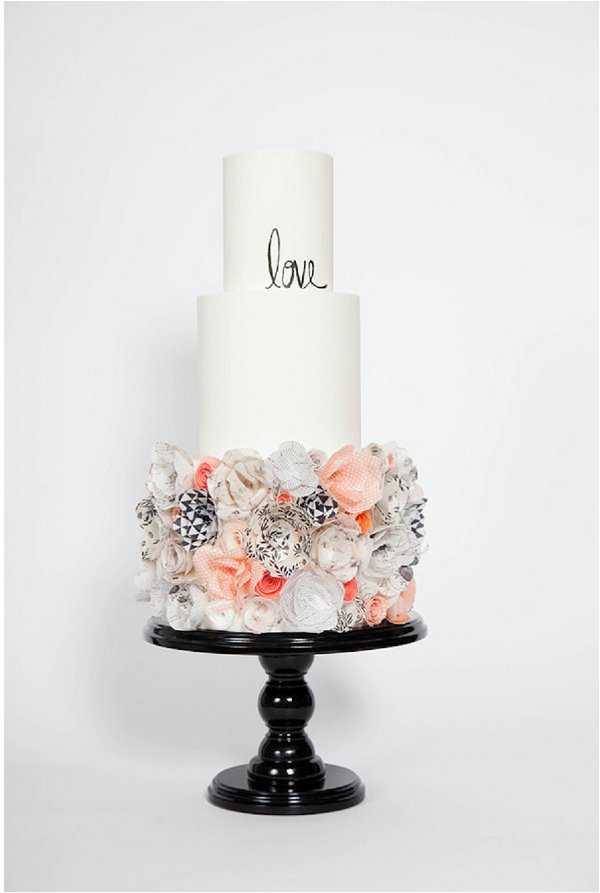 Created by Hey There Cupcake
Dusky Pastels Wedding Cakes
Think more sage than mint, dusky pink rather than baby pink, and pale air force blue rather than sky blue, these are soft pastel shades with a cooler hint to them.Toned down and with a hint of grey, these are still romantic colours suitable for any season but with a slightly moodier, more sultry feel to them.
Left: Created by Ana Parzych Cakes | Right: Created by Nevie Pie Cakes
Sequin Wedding Cakes
Sequinned trims and decorations have been growing in popularity for several years now but in 2015, I predict that they will be big news. You will see them used in similar ways to the metallics, with large sweeping areas of glittery beads, from cascades and waterfalls of sequins tumbling down wedding cakes to entire tiers covered in multi-faceted texture. Sequins don't have to be metallic either, they can be a romantic way of introducing black into a design, or in a whole rainbow of colours.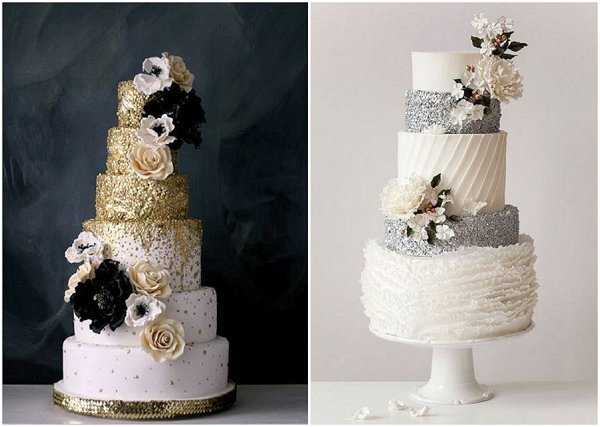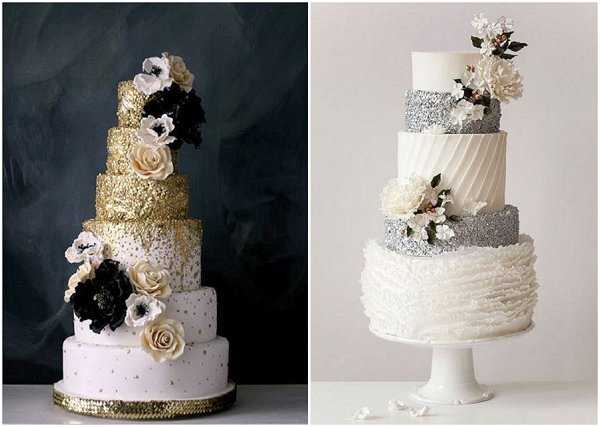 Left: Created by The Caketress | Right: Created by Jenna Rae Cakes
Textured Wedding Cakes
I love a smooth, flawlessly iced cake with pops of colour but I also love lots of tone on tone details, especially in all-white or all-ivory. It creates a real sense of textural for cakes that you want to reach out and touch. By layering different elements in the same colour, from ruffles to stencils to lace, light and shade help to create a very romantic, understated look that will draw your guests in for a closer look.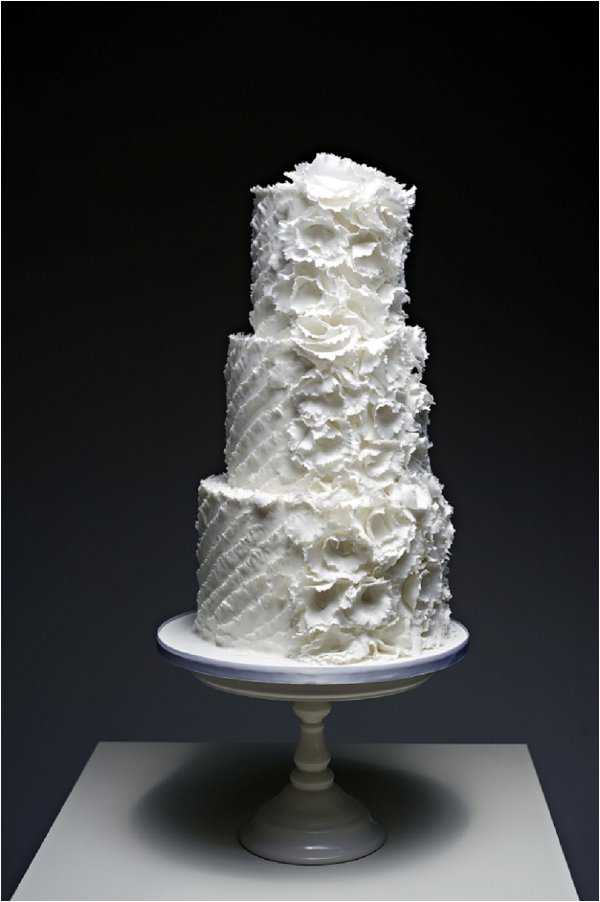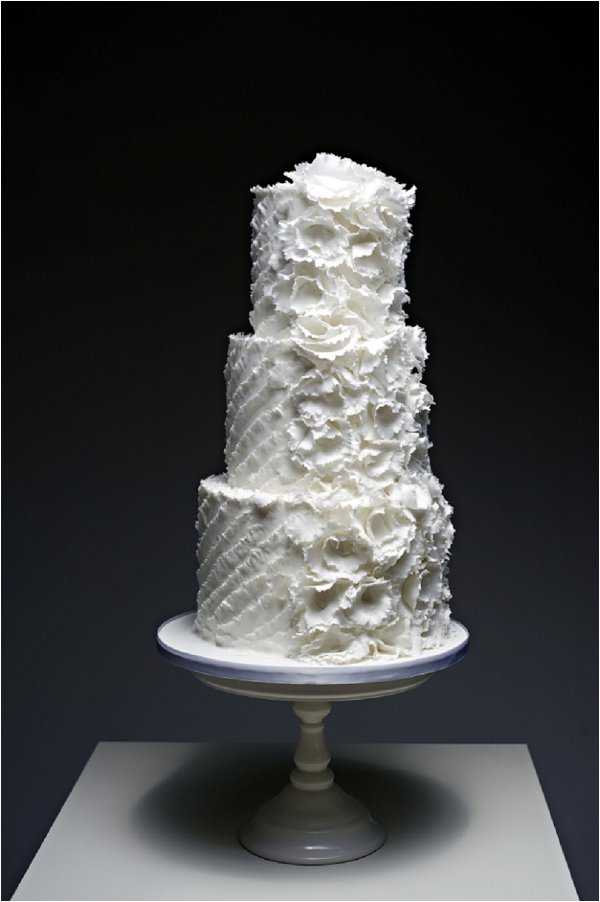 Created by Cakes by Beth, Image by Chris Hanley Photography
Created by The Cake That Ate Paris
To view more of Beth's stunning cake designs visit www.cakesbybeth.co.uk which are available for weddings across UK and France.