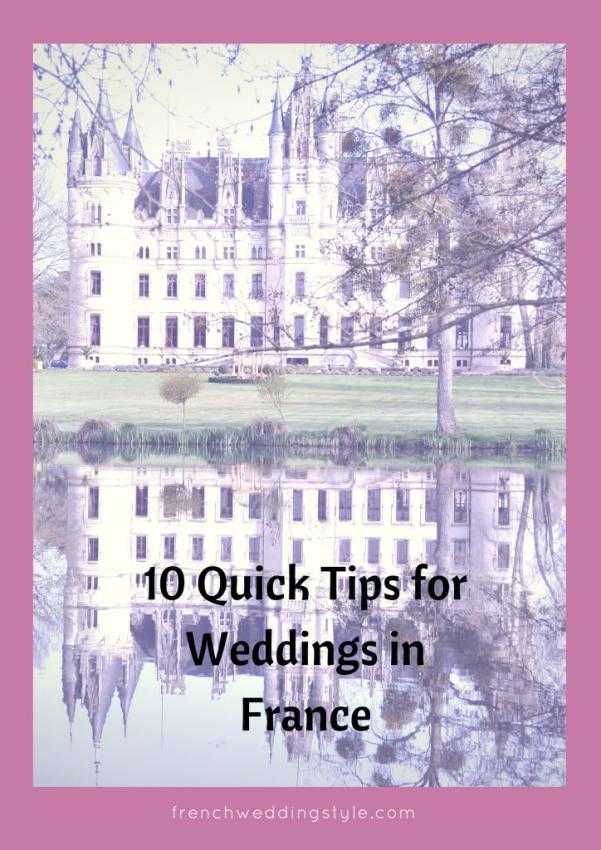 If you are engaged and currently just at the start of your wedding planning, France is a wonderful destination to consider and today we are sharing our 10 Quick Tips for Weddings in France.
1. You're wedding will likely be a blessing.
To read all about the entire legalities of getting married in France head here, but realistically unless you or a family member are a resident in France you will have to get legally married in your domestic country.  This can be a full large scale wedding or a courthouse wedding.  Many couples don't even let their guests know that their wedding in France is a blessing, as they treat it just like their real wedding.
2. Getting Married in France is cheaper than at Home
How much does a wedding cost in France, is like asking how long is a piece of string.  There really is no standard answer, and anyone who says there is is lying.  There are indeed some wonderful cost effective options for a wedding in France including a self catering villa, but the cost of the wedding will be determined by your budget and the number of guests.
3. Anyone can Marry you!
If you fall under the category of planning a blessing in France, then anyone can marry you.  Now there are some wonderful celebrants available throughout France, but if you wish a close family member or friend can perform the non legal ceremony.
4. Check Transport Links
One of the considerations when choosing a venue should be the nearest transport links to your chosen venue.  Not all areas in France benefit from easy access to the motorway system, so what can appear a short drive on google maps, can be a 3 hour drive from Nice to the heart of Provence.
Also check the nearest international airports and TGV access that is available for your guests.
5. Budget for currency transfers
After budgeting so carefully for your wedding the last thing you want to do is lose money when making payments in pounds / dollars from your UK/US  bank account to the French account of your suppliers in Euros.  Check out Transfer Wise which can help.
6. Plan on how to transport your wedding dress
Unless you are driving over to France, you need to plan on how to take your dress on board the aircraft.
Depending on which airline you're flying with and how long the flight is, the crew may be happy to hang your dress up once you're on board.  We have heard that British Airways for example say that subject to how busy the flight is, they may be able to hang your dress.
If not, be sure to look into wedding dress boxes and acid free tissue paper (helps with not creasing) to transport your wedding gown.
7. People want to buy you gifts
It is only natural that your friends and family will want to purchase and give gifts to celebrate your big day.  This can include cards, which if you can imagine 50 wedding cards, is a chunk out of your baggage allowance and packaging space to take back home.
Get out in front of this by letting your guests know if they would like to give a gift, the best possible way to do this.  This can include money for your honeymoon or try fun registry lists such as Buy Our Honeymoon.
8. Finding Suppliers
Finding your preferred wedding supplier in a foreign country can always be a challenge, but with the help of resources such as the French Wedding Directory, this can be so much easier.
If you can't find an English speaking wedding supplier in your area, then be sure to look for real weddings in your area and sift through for their wedding suppliers.
9. Welcome Guest Packs
Your guests have arrived ahead of your wedding and they don't know what to do or where to go.  One of the best tokens of your thanks for attending that you can provide is a welcome guest pack.  This can contain:
maps to the local area
taxi and transport numbers
list of local activities especially suitable for children
list of restaurants and supermarkets
programme of events for the wedding and/ or before and after
bottles of water
sunscreen
fan
10.  Hire a planner
Not matter how organized you are planning a wedding in France brings up certain challenges including the language barrier, unless you speak fluent French.  A wedding planner is a great addition to your wedding team, helping negotiate with French suppliers and provide guidance and support when planning your wedding in France.
Happy Wedding Planning!